Ever had your data completely wiped off clean all of a sudden? Or faced unexpected lags while running your device?  Yeah well, that was your face off with a malware attack!
We live a life with internet serving up as its core. Amidst our highly virtualized life, we often come across the dangers of cyber-attacks.
Amongst those malware attacks are the most havoc-wreaking cyber problem that we face. Although they may seem somewhat insignificant, they are known to create various issues for people. Furthermore, this nonchalant attitude of people towards these attacks is what allows them to spread about rapidly like wildfire!
Within these past few years, the number of malware attacks is increasing significantly with 2018 alone, facing over 10 billion malware attacks. In such bleak times, if you are fretting over your security we have compiled a list of best anti-malware software for you to look up to:
7 Best Free Anti Malware Softwares (2020)
Malwares and other cyber threats are usually out there prowling on the internet waiting for some victim to feed upon. Similarly, malware infections tend to occur through emails and the internet.
Once your device is infiltrated with malware software, it can perform various activities on it such as it can download even more malicious documents, toolbars or open up malicious emails.
It can also multiply and just stay on your device and cause harm.
As malwares are just about present everywhere on the internet, they also tend to hide in seemingly legitimate applications. This is why it crucial to have a protective software up and running while being online and to pay heeds to any warning signs that may pop up before downloading a file.
1. Bitdefender Antivirus FREE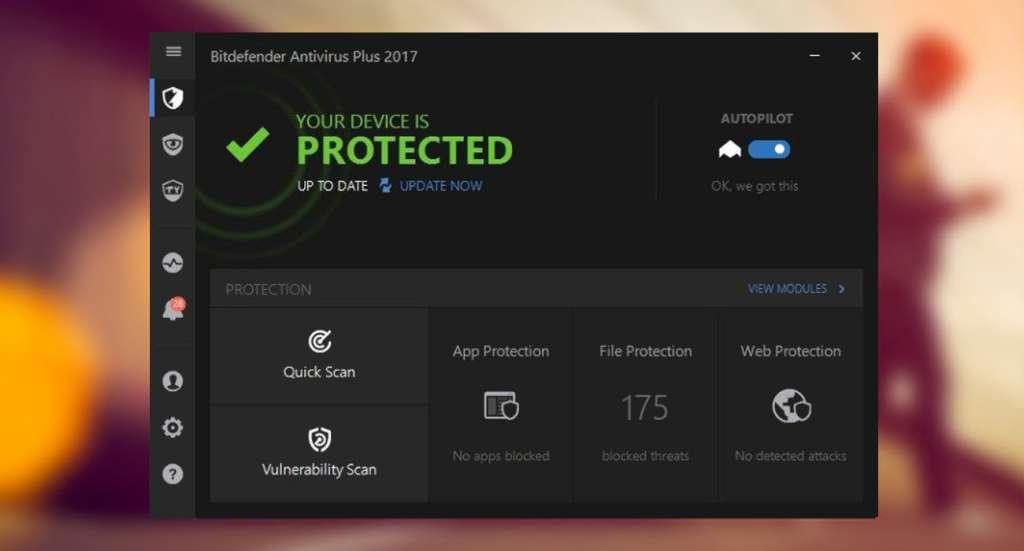 Simple interference
Has a free version
Is unobtrusive
Clean, simple, and completely user-friendly; this anti-malware software can help you stay secure and protected over the intern.  It comes equipped with an anti-malware search engine that makes sure that you remain clean and protected in the first place.
Apart from that, it is also fully capable of wiping out any existing malware issues within your device. It is designed to consciously look for any files or folders that may seem even somewhat suspicious by dragging them up on the home screen
It holds out thorough checks of all the data and any records deemed suspicious is immediately removed by this efficient software. This software is designed to be completely unobtrusive, but its feature of having a protection shield gives out prompts whenever a suspicious activity is detected. To sum it all this is a pleasantly good software to opt for.
2. Malwarebytes Antivirus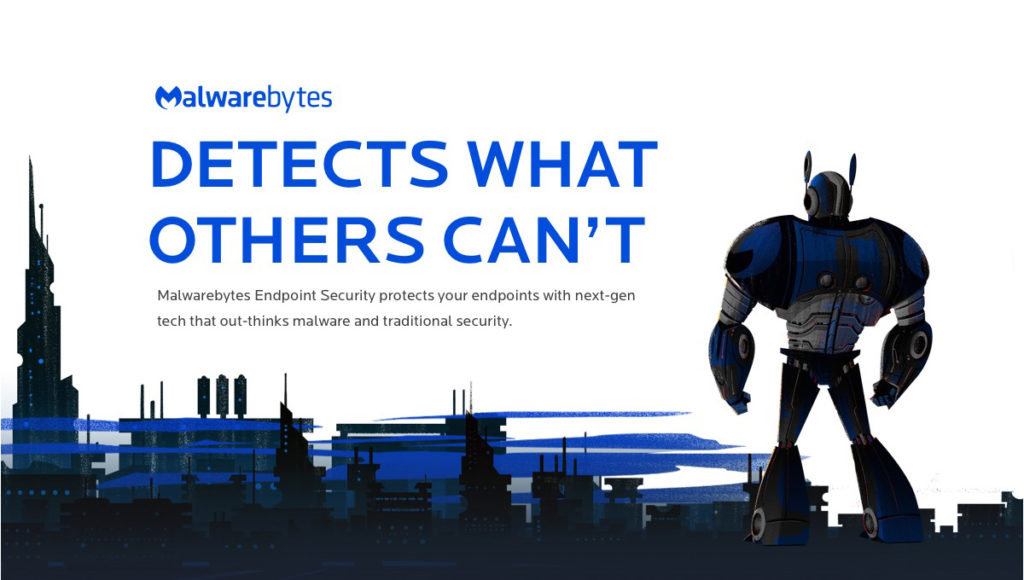 Detects adware, ransomware, and malware
Works compatible with an antivirus
Has a free version and a 14 day trial period
This is taken to be as one of the best anti-malware software available in the market. Its developers update it religiously regularly allowing it to be fully equipped with all the latest problems and issues.
Upon installation, it comes with a 14 day trial period of the premium paid edition. After those two luxurious weeks, it reverts to its unpaid version. The paid version has the upper hand in having real-time scanning and protection from ransomware as well.
Another great outlook towards is that last year the company bought Adwcleaner, which is a tool designed to target and remove programs that may hijack your device and make changes in the homepage or the browser. It is available for free and works well with the anthem law.
In spite of all its glory, one minor drawback is that it has to be run manually. It is better to go through with a weekly checkup to stay protected.
3. Norton Security Malware Software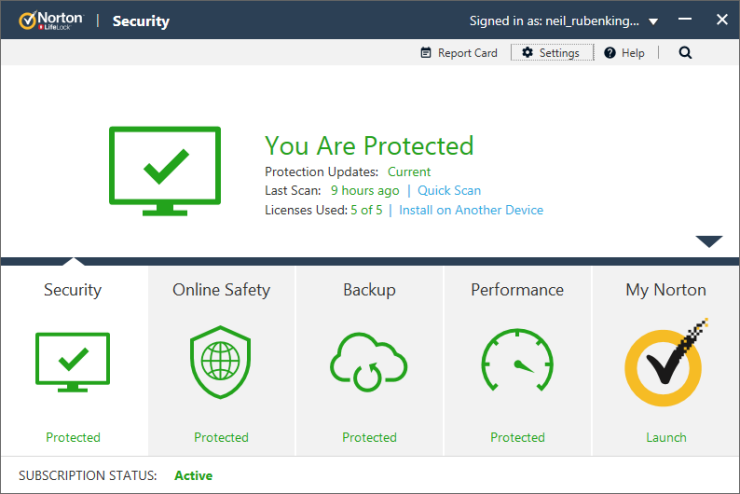 Has a firewall
Robust protective features
30-day money back guarantee
This is a well-known name in the world of cybersecurity.  This software is designed to offer vigorous and extremely efficient protection against all the harmful Trojans, adware, spyware, and ransomware.
This software s equipped to offer real-time protection even against those phishing attacks. Furthermore, it comes equipped with additional protective features like firewall and other clean up tools that ensure the security and the safety of your device.
The company offers its users a 30 day trial period as well as a limited free version for those who are unwilling to commit fully. All in all, it is indeed a convenient tool.
4. AVG Antivirus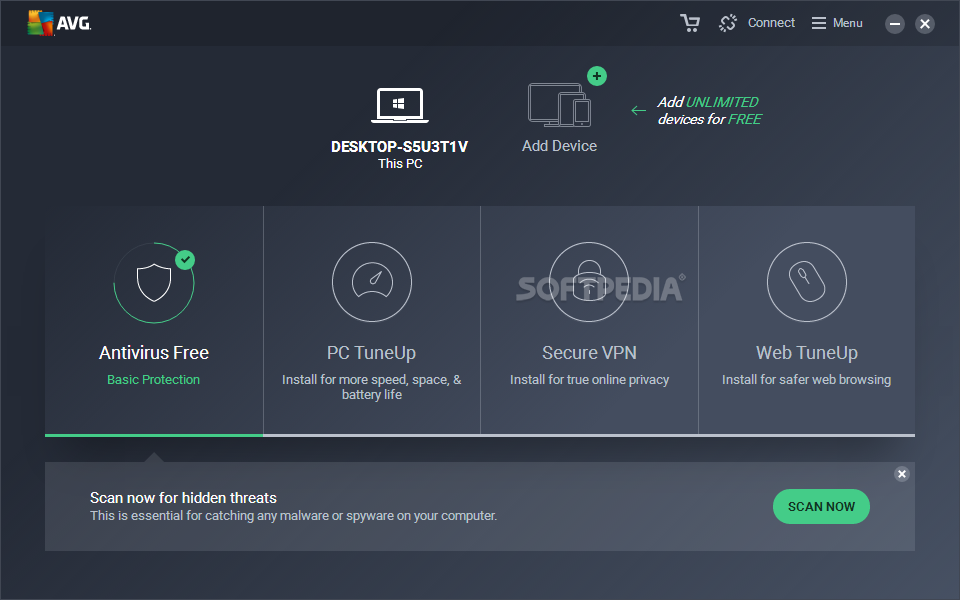 The excellent reputation of malware protection
Easy to set up and configure
Conspicuous working
Extremely configurable and fairly efficient AVG antivirus software has the reputation of providing real-time protection against malicious software. With its user-friendly dashboard, it protects the users not only from downloadable threats but from every suspicious link prowling online.
Furthermore, it provides a convenient feature of allowing your PC to be canned for threats from your mobile too. It comes with a free version, but its paid version offers more dynamic download protection as well as data encryption along with a firewall. 
However, if you are looking for a software that is unobtrusive AVG might not be the best available option for you.
5. Avast Internet Security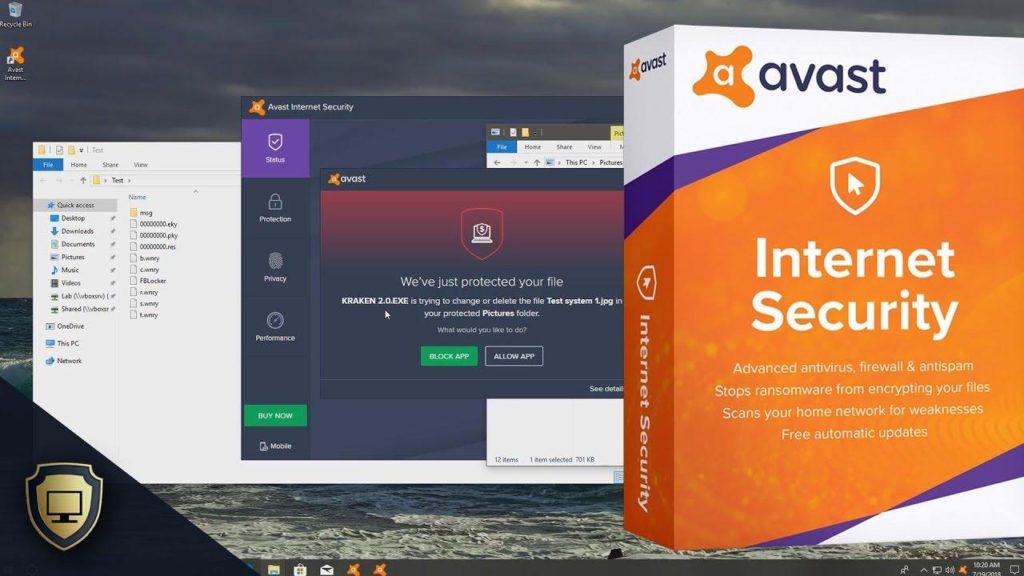 Enhanced security
upgraded password protection
additional web shield feature
Fast efficient and exceedingly reliable avast internet security software apparently lives up to its award-winning reputation as one of the best antivirus software available in the market. It comes fully equipped with the best defenses against a vast array of malicious software such as viruses, adware, spyware, and ransomware. It is especially notorious in providing the best ransomware protection.
Moreover, it provides real-time security with having an entirely inconspicuous impact on your device. This extremely lightweight and user-friendly software comes with a free version too, which still offers real times protection against malicious software.
6. Comodo Anti Malware Software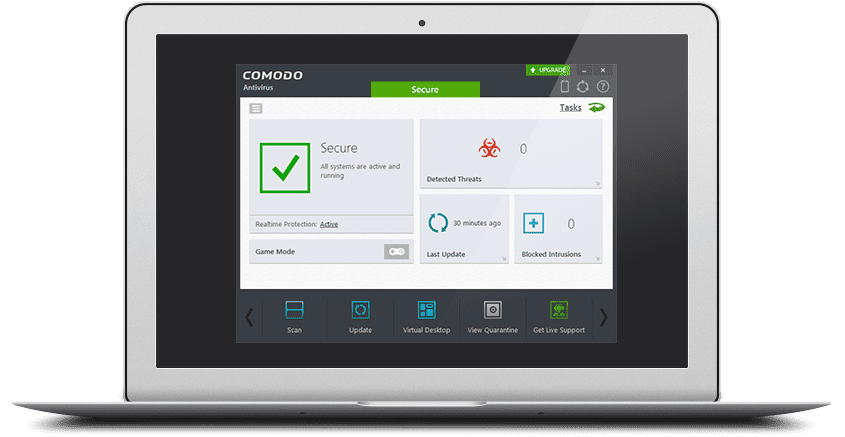 Zero-day threat protection
Efficient malware protection
Automatic updates
Comodo cybersecurity comes equipped with top-notch features that promise real step up in your security game. With an antivirus, firewall, sandboxing, a separate safe browser as well as a protected shopping portal comodo cybersecurity ensures protection from Trojans, spyware, keyloggers, adware, rootkits and even the strongest of malware out there.
Apart from that, it has a remarkable standout feature that is the Default Deny Feature which gives it the liberty to sort all the incoming files and application into the "known good, "known bad" and the" unknown" categories. This makes it easier for th user to run an unknown application after they have gone through a proper scan.
Another remarkable feature that makes it accessible is the Malware Analysis, which ensures the user's safety by scanning every software before allowing It to run on the device. This software is fully equipped with efficient emergency malware removal and is undoubtedly something to opt for. 
7. TotalAV Malware Scan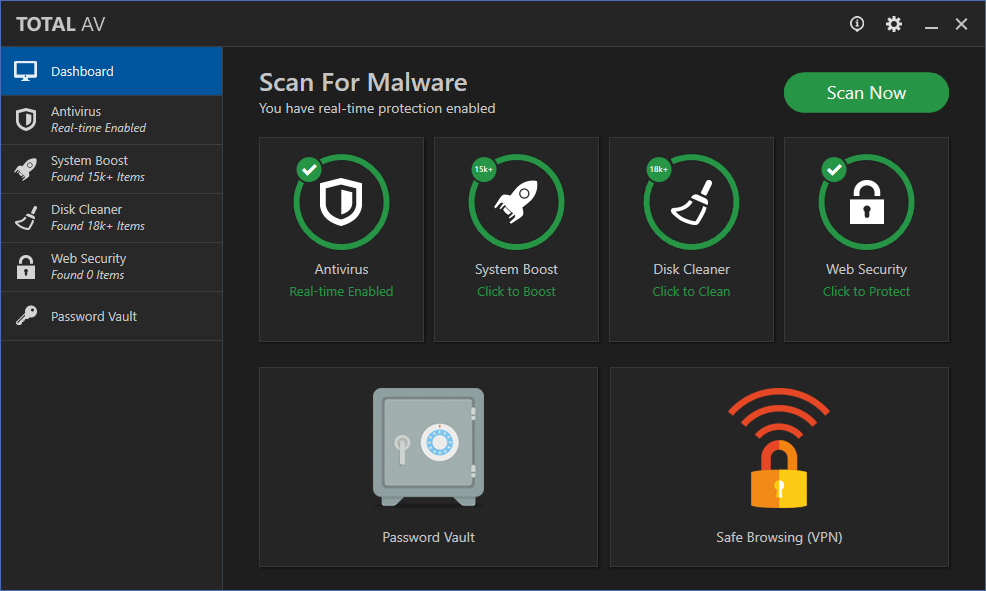 Compatible user interface
Performance enhancing toolset
Efficient scanning and phishing protection
Total AV is again a reasonably good anti-malware protection software, that promises protection from malicious software for free.  Apart from that, it is particularly handy as it helps boost up the user's device speed and provides fairly decent phishing protection too.
Equipped with some convenient tune-up tools as well a security features, this is a consumer-friendly and decent software to opt for.
Apart from this, for those of you who are still in the dark about the gory details of what malwares are, we did a thorough study and came with some in-depth knowledge. Here is what we found out:
What is malware?
How to identify the infection of malware- what are the signs and effects?
Are anti-malwares and antivirus the same?
How do I get infected by malware?
What to do if infected by the malware?                 
To cater to your specific needs, let's start with a nosedive on the very basics.
#8 – Hitman Pro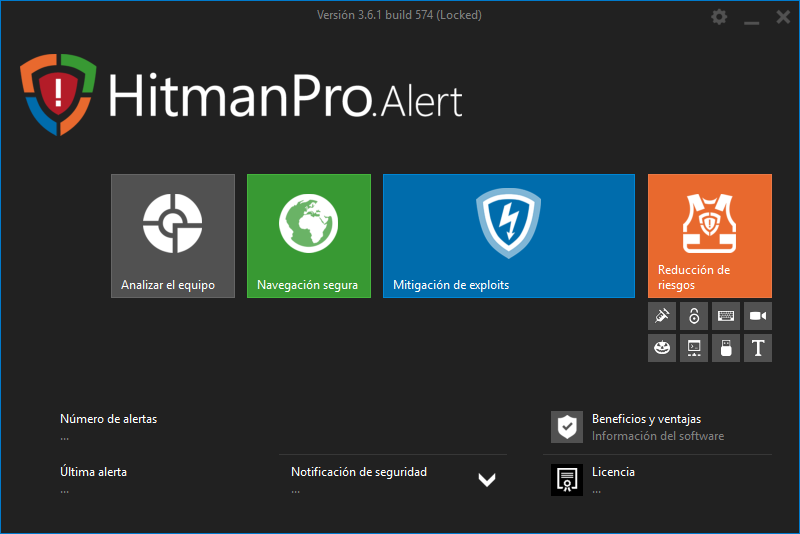 30 day free trial period
Compatible with antivirus programs
Uses highly efficient cloud-based technology
Now a part of Sophos security and listed as the second opinion scanner, HitmanPro is another excellent anti-malware software to opt for. Equipped with behavioral-based technology, it can detect even unknown threats while observing the behavior. It then scans the unsuspected files through the cloud-based technology scanning engine.
To top of it all, it is very efficient in its manner and has the ability of 4 scanners. This is why it is ranked amongst the top three antiviruses' engine- Bitdefender, Kaspersky, and Emsisoft. Furthermore, it is compatible with any antivirus system present in your device.
It is, however, not entirely free and offers a 30-day trial and detection removal program. After that, you have to pay to make use of its services.
#9 – SUPERAntiSpyware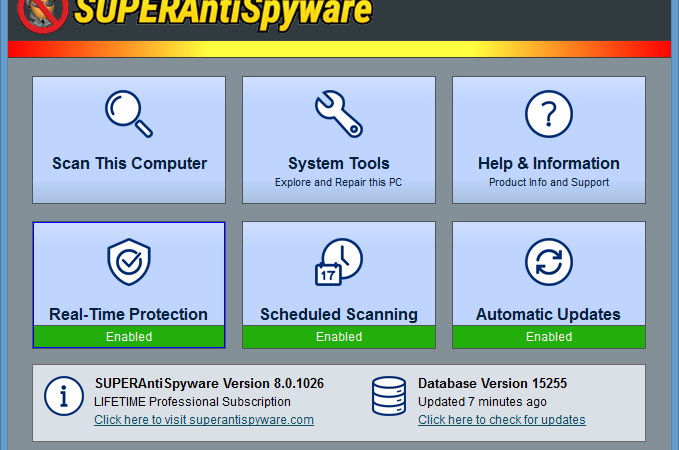 Free program
Allows deep manual scanning
Removes viruses as well as malwares
Accessible for mainly detecting and eliminating viruses, this tool is handy for those who wish to have full control over the scans. This way, the users have control over which type of file they want to be scanned and how often they want the file scanned.
Furthermore, this program allows you to decide if you want it to look into ZIP archives. With this, once you come across a suspicious file, you send it to the SuperAntiSpyware's threat lab to analyze it thoroughly.
It has a premium version too, which offers better detection and removal. The free version is, however, excruciatingly slow and the analysis of files is often inconvenient.
---
What to do if I get infected by malware?
Has any of the above mentioned telltale signs of malware infection ticked off?  Well, it's better not to be scared as here is a list of some of the best anti-malware software that can help you fight against the infection fervently.
What is Malware?
 The term malware, in general, exists as a short version of malicious software. Now as the name depicts malwares are software specifically designed to disrupt the functioning of a computer, device or a network. It is also used to gain unauthorized access into a client-server, network, or a device.
Malwares generally exist in the form of a code, script, software or any other kind of mobile software. They are hostile, intrusive and particularly nasty, and are capable of wreaking havoc after invading computers, computer networks or any other technical device.
Although malwares are not usually there to cause any physical damage to the hardware of systems or of the devices forming a network, they sure are destructive. Malware is often released so that it freezes the network or encrypts or deletes the data present in a device or a system.
Otherwise, it is also capable of hijacking, altering, or stealing the victim's information without his knowledge or permission. This software is particularly sneaky and operates without any apparent activity.
This malicious software, like every other cyber-criminal activity, is mainly released out for the primary purpose of gaining money. Apart from that, it may also be used by cybercriminals to spy on people or just to steal information.
How to Know If You are Infected with Malware?
Malware infections are usually sneaky. At times you may be infected with malware without much of your apparent knowledge. The malware would go around carrying out its designated task, and you would know long after you have suffered some loss.
However, if you know what you are looking for, you can grasp that you are under an attack. To help you out, we have compiled a few telltale signs of a malware infection:
1. Slowing Down of the Device.
The most telltale sign is the lagging of the device or the computer. Are you facing sudden lags while running programs? Or are the programs taking a bit too long to start up or are continuously crashing?
If you are coming across any one of these issues then, well, there might be a fat chance of you being infected with malware.
However, even now, there still is room for doubt or suspicion. Slowing down of a device can be due to various other reasons such as running out of storage or RAM.
To be entirely sure, while experiencing lags on computers, check out the RAM usage. While using windows, open task manager > performance tab > system memory to check out how much RAM you have used up.
For Mac OS users, you can simply fire up Activity Monitor application, present under system memory. There you can easily have a look at your RAM usage.
Furthermore, it is essential to rule out other objectives that may cause lagging of device such as hardware damage or low storage before fully believing that you are facing a malware attack. If all these problems are not there, then you are suffering a malware attack.
2. Running out of Storage Space
Most of the malwares tend to take up all or most of the space available in the device's hardware. They do this by manipulating files and duplicating themselves so that the entire device storage compartment gets used up.
The memory storage is filled up with somewhat suspicious files. If you happen to come across such memory issues and see unknown data in your storage that you are sure you haven't installed, then it is most likely malware.
The smart thing to do here is not to open up the file. Instead, it is better to search the file name on the internet and scan them with the help of an anti-malware to be aware of any infections.
3. Blue Screen of Death (BSOD)
Another somewhat visible sign of a malware infection may be the constant crashing of your PC.  As most malwares tend to cause problems in the software, with your PC crashing a lot, it is likely that it is the work of a malware.
However, here again, another outlook may be that there is simply a "technical problem" instead of it being a malware issue. It can happen if you are not equipped with the latest drivers or the programs you are trying run are not compatible with your device.
If you are sure that none of these issues are a cause of hindrance, then it might be due to a malware issue. However, to make sure and to check the cause of your BSOD, you can go to Control Panel> System and Security> Administrative Tools> Event Viewer and select Windows Logs.
Here the programs marked with the word "error" are the cause of your BSOD. If you are facing troubleshooting problems, then it is better to consult an IT specialist.
4. Unwanted POP-Ups or Toolbars
The most annoying of the signs of malware infection is pop up advertisements and unwanted toolbars. These are the most definite signs of the infection
. If you are facing those annoying advertisements that pop up whenever you are trying to run the application, then it means that your device has malicious software somewhere. The best way out is to get rid of it immediately.
These malwares are often a result of downloading things from the internet and using unknown resources. Also, they may also be because of using free application. The smarter way while going through such downloads is to be sure of every time you install and to scan them thoroughly so that you don't accidentally download a malware along.
Apart from these, other seemingly conspicuous signs of a malware infection may be:
High battery drains
You may be accidentally sending out spams
A problem in the functioning of modem or hard drive
A high number of bounced emails
Frozen or completely unresponsive web browsers or applications
Unfamiliar applications installed in the device
Although all of these signs are not that easy to look up, once you know what you are looking for, it is effortless to catch on to it.  With these signs in mind, you can easily spot on when you are under a malware infection.
Are Anti-Malwares and Antiviruses Same?
Anti-malwares and antiviruses are generally of the same families. Up front, they share the same features that are protected from viruses and malwares. Now the main question that comes here is why the difference of terms?
Well, antiviruses are just named in an old-fashioned way while anti malwares is something that can be termed as somewhat modern. Otherwise, both the software work the same. Most people assume that as the name depicts, antiviruses are better equipped with getting rid of viruses in general.
However, anti-malware software is also capable of going through with the same task. Anti-malwares are also equipped to stop a viral infection from occurring and to remove all the infected files. One drawback to this is that this software is not designed to restore the data once they have been deleted or altered by the virus. While in general, both of this software is the same thing.
These anti malwares are generally software that comes equipped with a much vaster array of getting rid of harmful cyber software. However, for ultimate protection, it is better to combine the use of both an antivirus and anti-malware. 
Conclusion
Now that you are fully aware of the dangers that are lurking under the cheeriness of the internet are fully informed regarding how to stay safe, it is better to enhance your security.
Apart from that, it is crucial to remember the fact that your anti-malware software is not something to be used only when you are facing an infection.
Instead, this software is something you should be equipped with at all times to stay in better shape and be protected from the worst.