Last Updated 13 July 2019
Let's face it. In 2019, the bounds of online privacy are getting smaller with each passing day. Gigantic search engines such as Google, Yahoo, and Bing are notorious for accumulating information on their million users and using it to create a more 'personalized' experience. On the surface, this might seem like a dream, but at what cost?
Private search engines offer a much safer alternative to the standard set by the search engines mentioned above and help users have control over their data and who has access to it.
Owing primarily to the rising concerns many have over internet privacy, private search engines have seen a boost recently. What was previously thought unthinkable has now become a reality. Google, which was once had a tight grip on the market shares, has seen their shares drop from 78.7% in February 2017 to below 70% in February 2018.
Keeping the increasing need for private search engines, we've compiled a list of tried and tested search engines to help you surf through the web, without the fear of your data being used to target advertisements at you.
Which is the Best Private Search Engine?
I have listed them below, all the best private search engines, but the question is; which one of these is the best?
So! DuckDuckGo is pretty anonymous browser but you need to add VPN tech behind, but remember only get legit VPN that can handle speed and security better.
Combination of VPN+DuckDuckGo will provide anonymous and private searching.
7 Best Private Search Engines:
Some of the best search engines that guarantee private searching, without logging any of your information include:
#1- DuckDuckGo: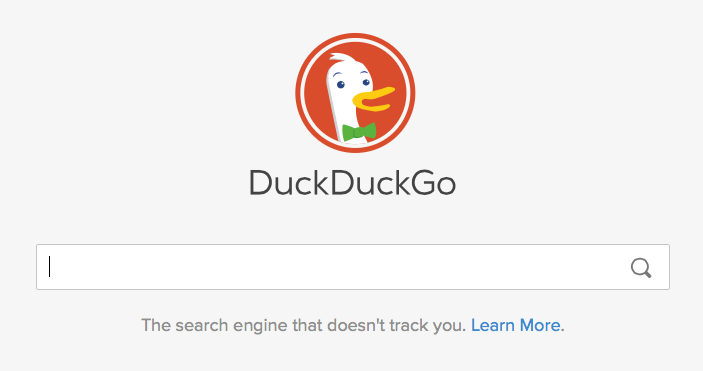 Perhaps the most well-known private search engine is DuckDuckGo, and understandably so.
Unless you've been spending the better bits of your life under a rock, DuckDuckGo is a search engine that emphasizes protecting their user's privacy, as well as helping you find all the information that you're searching for. Some benefits to using DuckDuckGo include:
• Block advertising trackers. You share most of yourself on the internet through your likes, dislikes, and interests. All this information can be used to determine which ads should be sent to you.
On popular browsers, such as Google Chrome, your search history is often used to target ads to you that present themselves as those pesky and annoying banner ads.
• Keeps your search history private. Searches on DuckDuckGo are entirely anonymous, which means that you can search without any fear of being tracked.
Even while browsing through the incognito mode on Google, your searches can easily be traced back to you via your IP address. DuckDuckGo, simply put, does not store any data that could be tied back to you.
• Gives you more control over your data. With a privacy policy summed up in a single, effective sentence, 'We don't collect or share personal information,' DuckDuckGo gives its users an unprecedented amount of control over their data.
None of your searches are stored, and the results you get are generalized, rather than being customized. However, it must be kept in mind that you do not get a personalized search on DuckDuckGo, as you would on Google, which sometimes results in scrolling through tons and tons of links, to find the result that you're looking for.
With a slogan of 'no tracking, no ad targeting, just searching,' DuckDuckGo, is quickly becoming a game changer in the realms of cybersecurity.
#2- StartPage: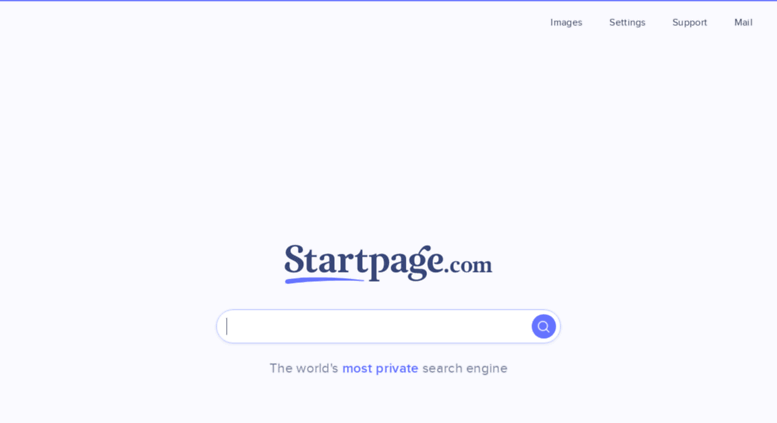 As stated on their website, StartPage was created to let users take back control over the information being harvested by companies, and offers the following features:
Utilizes no cookies: StartPage integrates a URL generator into its search engine which eliminates the need for any cookies. Cookies play an important part in remembering your preferences and help search engines gain access to your browsing habits.
Gets search results from Google: Since StartPage receives all of its results from Google; you get accessible searches, with added security and privacy.
Offers proxy service: StartPage takes security to another level, as it provides the perk of its proxy service, which anonymizes the user's identity.
Offers HTTPS support: StartPage offers HTTPS support, which enables encryption on the online activity of its users.
Aside from this, StartPage also has a browser extension that allows for direct searching, as well as a private email option, known as StartMail.
#3- Disconnect Search: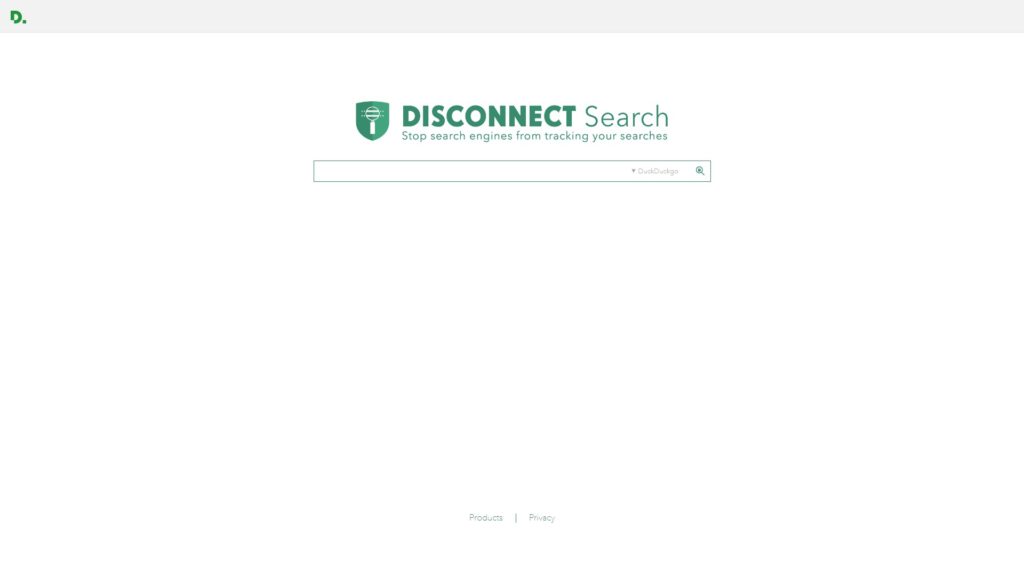 If you're looking for a search engine which works in a way similar to StartPage, Disconnect Search is the way to go. Some merits to using Disconnect search engine are:
Customize your search results: In a fashion similar to StartPage, Disconnect gets its results from other search engines. However, unlike Disconnect, users can choose the specific source from where to get their results, such as Yahoo, Bing, etc.
Allows users to submit queries anonymously: Disconnect Search logs no information that can be traced back to users, and hides your identity by sending your queries anonymously.
Keeps the same display as the source: Perhaps a much more subtle perk to using Disconnect Search is that it keeps the same display as the source engine, which means that the interface is much more pleasing to the eye, and provides a user-friendly interface.
Offers a VPN: Along with the attributes mentioned above, Disconnect Search amplifies security by providing a VPN as well, which aids users in browsing through the web without the fear of revealing their IP address.
#4- MetaGer: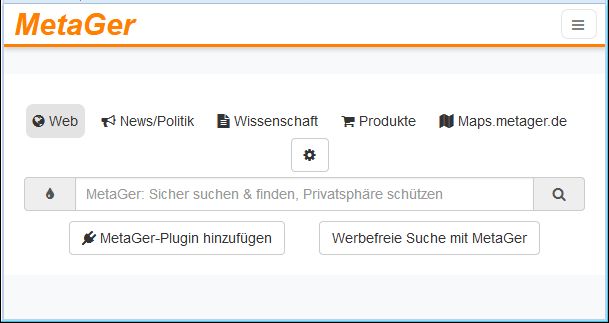 MetaGer was created by a German non-profit NGO and is amassing a broad audience from all over the world. Some perks that MetaGer offers include:
Coverts search into anonymous queries: A common trait shared by a majority of private search engines is that they all convert searches into anonymous queries, which makes it near impossible to your searches being traced back to you.
Integrates proxy with the search engine: Unlike other private search engines, MetaGer incorporates a proxy into the search engine, which hides your IP address and protects your privacy.
Offers an 'Open Anonymously' option: MetaGer offers an 'open anonymously' option on all the links it displays. This provides users with the facility of not being tracked by the websites they visit, or any third party with malicious intent.
Offers privacy protection on links: Unlike other private search engines, MetaGer provides security if you click on links and get redirected while you're on the website of your choice.
MetaGer is open source: Since MetaGer is an open sourced search engine, anyone can view the code, which elevates the level of trust that users have in the search engine.
#5- Searx.me:
With a term of service bluntly stating that Searx.me "doesn't care what you search," the trendy private search engine has many attributes to offer:
It is a metasearch engine: Since searx.me is a metasearch engine, it gathers search results from many popular search engines and combines them, so that you can be sure that you're getting the best results possible.
Doesn't log any of your sensitive information: As stated in their terms of service, searx.me doesn't store any data on you, including any record of your search or browsing history.
Doesn't display any ads: Unlike other private search engines, which make a large chunk of their profits through advertising, searx.me relieves users of the annoyance of those ever-present ads. Instead, searx.me relies heavily on donations to run the search engine.
It's an open sourced search engine: Searx.me is an open sourced search engine, similar to MetaGer, which renders their code visible to anyone. Searx.me actually encourages users to download and tweak the code wherever necessary, however for the less tech-savvy people; searx.me allows users to configure settings as well.
Available as an extension: Searx.me is readily accessible as a Firefox extension, which allows users direct access to the private search engine without having to type the URL on the address bar.
#6- Yase:
Another option for private search fanatics out there lies in the form of Yase, where privacy is put before everything else. Yase offers the following features to users:
Uses Bing as a source search engine: Yase is committed to providing users with top-notch search results, and gets all of its results from the mega-popular search engine Bing, along with information from Wikipedia, with the added perk of security.
Has a strict no-log policy: Yase has a strict no-log policy and adheres to its promise of not keeping any tabs on users. The company also explicitly states in its privacy policy that it does not store any IP addresses.
Offers a user-friendly interface: Along with the added security, Yase also enhances the user's experience as it has a clean and easy to use interface, with no traces of filter bubble.
#7- Qwant:
Qwant is a private search engine based in Europe and has the following features to offer:
Company is dedicated to security: Qwant is devoted to ensuring that users experience the best search results in a safe and secure environment. As stated in their privacy policy," never tries to guess who you are or what you are doing," users can be sure that their data is in safe hands with Qwant.
Doesn't record searches: Qwant provides users a safe environment to browse the internet in, as it doesn't record any searches made.
Protects personal data: Qwant holds the personal data of it users with high regard, and never utilizes it for targeted advertising or consumer profiling.
Qwick search shortcuts: Similar to DuckDuckGo's !bangs, Qwant offers a feature called Qwick search shortcuts which enables users to directly search websites such as Wikipedia, etc.
So, what do you do from this point onwards?
Now that you've reached the article, hopefully you've acquainted yourself with the many options available for private searching. With search engines like Google and Bing, piling up on your data with the passing of every moment, the least we can do is be careful.
As responsible users of technology, try to stay in the know-how of recent vulnerabilities in the search engines, and opt for private searching instead.