Last Updated 17 July 2019
Imagine this. You've just finished working on your 9-5 job, and after having the worst week possible, all you want to do is wind down, relax and enjoy your favorite Netflix movie. But after you've settled into your favorite couch, with a bowl of popcorn in hand, you find out that your WiFi signals are just too slow, and all your plans for the weekend have gone to waste.
Well, unfortunately, for many of us, the situation painted above bears a striking resemblance to what goes on in real life. A weak WiFi network influences many aspects of our life and can be a source of significant discomfort, as it affects both our personal and professional lives if the issue remains unsolved.
Tweak Your Router To Get More Juice From it
However, to aid you in your quest to boost your WiFi signals, mentioned below are ten foolproof in which you can strengthen your WiFi network:
1- Place Your Router in a Central Part of your Home:
The most rookie mistake that a user can make when it comes to the Wi-Fi setup that users make is concerning the placement of a WiFi router. To enhance the WiFi experience that you can have at home, try placing the router at a central part in your home, such as:
In the central living room or family room
Try placing the router a couple of inches above floor level on a coffee table to boost the strength of the signal
To cover an area evenly with the WiFi signal, try placing the router in the center of the room
As a general rule of thumb, avoid placing your router in the following places:
Basements, since the WiFi router can only pick up signals in an open space
Avoid placing the router near metal appliances or devices (such as in the kitchen) that emit electromagnetic waves which might interfere with the WiFi signals
Try not to place your router in a windowsill or some other obsolete corner of the house as most of the signals will not be utilized.
2- Frequently Update Your Router:
Most users undermine the risks that their routers face. However, the latest news in cybersecurity tells a different story.
Taking into consideration the phishing attack statistics for 2019, along with the ever-present threat of malware, it wouldn't be a stretch to say that many of these attacks wouldn't be possible if the WiFi routers were frequently updated.
Businesses tend to lose millions of dollars to cyber-attacks, and as convenient and straightforward as it might seem, the solution is to update your router regularly.
If a router is exposed to malware, it can compromise the network by stealing bandwidth and propagating to other devices connected to the network.
However, an outdated router performs poorly as compared to an updated router, even when there are no apparent threats present.
3- Check out Antenna Upgrades:
If you've ever taken the time to inspect your WiFi router, you might find that it comes with small, dingy and weak antennas. To enhance your WiFi experience at home, try to upgrade your antennas to a much larger size.
The regular router is about 4 inches tall and has a 4dB gain. On the other hand, a robust WiFi antenna is around 10-15 inches tall and has a 10 dB gain. A new, updated WiFi antenna set allows users to boost Wi-Fi signals without having to purchase a new router.
However, if you want to splurge on a router, go ahead and buy a router with powerful antennas with rave reviews on Amazon.
4- Protect your WiFi at all Costs:
Although this might seem like an obvious step to take, many people underestimate the importance of protecting your WiFi network.
Making sure that your WiFi network is secured and encrypted isn't just an extra security measure; it's an absolute necessity. People who live close to you behave in a way quite similar to leeches- a WiFi leech, that is.
WiFi leeches will stop at nothing to suck the bandwidth right out of your network, which in turn, makes your WiFi network slow and stodgy.
Steps that you can take to prevent unwanted people from gaining access to your WiFi includes having a robust 10-15 character password that is completely random, and can't be guessed easily. As a general rule of thumb, avoid passwords such as 'password' and '123456'.
If you have friends coming over at your place, try creating a separate guest network with limited bandwidth, and try changing the password regularly.
5- Use a Different WiFi Channel:
Although you might not have heard about it, a WiFi router can broadcast multiple WiFi channels.
Most users leave their router settings on the default channel, which is usually jam-packed with traffic, which renders the WiFi network to be slow.
To boost your WiFi signals, all you have to do is to manipulate your browser settings a bit; find out which channel has the least amount of traffic in it and switch to it.
You can use a WiFi analysis tool, such as NetSpot, which provides a detailed report about your WiFi network, and helps you decide which channel you should switch to.
6- Invest in a WiFi Booster/Repeater/Extender:
To elevate the speed of your WiFi signals at home, try investing in a WiFi booster/repeater/extender.
A WiFi repeater works by propagating your WiFi signal further, all the while keeping your original password settings. Essentially, what a WiFi repeater does is that it takes a WiFi signal, amplifies it, and transmits it again.
A WiFi repeater will cost you around a hundred dollars and can be installed within a few minutes. Some WiFi repeaters are designed to work with a Wi-Fi boosting app, whereas some require fiddling with the WiFi settings to get the best result possible.
Users can also configure a WiFi repeater by connecting a second router to the original WiFi router through their LAN ports, and alter the settings so that they may be able to use the configured router to send out an amplified signal.
7- Monitor and Control Bandwidth-Hungry Applications and Clients:
An uneven bandwidth distribution between applications can result in the speed of your WiFi speeds, reaching an all-time low.
If you're using a shared WiFi network, which most home users are, download and upload speeds can come to an excruciatingly slow pace, because someone on the network decided to watch a 1080p YouTube video.
However, fortunately for us, most routers have QoS (Quality of Service), which allows users to give priority to specific applications over others, which offers the same quality browsing session to each user present on a network.
8- Transfer to the 5 GHz Network:
If your WiFi router supports the 5 GHz network, you should seriously consider switching to it.
Perhaps the most significant advantage that the 5 GHz network offers is the data rates. When compared to the 2.4 GHz network, the 5 GHz network covers shorter distances at a much faster pace.
If you're looking for an instant boost in your WiFi signals, you should immediately switch to the 5 GHz network.
9- Use the latest WiFi tech:
A simple favor that you can do for yourself is to keep yourself updated about the latest WiFi technology.
The latest development in the field of WiFi tech is the IEEE 802.11ac, which offers a far greater download and upload speed, along with a broader WiFi range.
Make use of the developments in the field of WiFi technology and use them to improve and enhance your WiFi experience at home.
10 – Reboot, Reboot, and Reboot!
Some advice that is still relevant when it comes to WiFi routers is simply to reboot it.
When it comes to boosting your Wi-Fi signals, sometimes the easiest solution is the way to go. A reboot helps you by erasing the router's memory and automatically installs updates.
Frequently rebooting your Wi-Fi router makes sure that your network is up to date, and rids the system of anything that might be slowing it down.
11 – Boost Your WiFi with Aluminum Foil
There thousand of people out there tweaking their Wifi Router to boost their signals by using aluminum foil wrap.
You can use aluminum foil paper, cardboard, coke can look like this.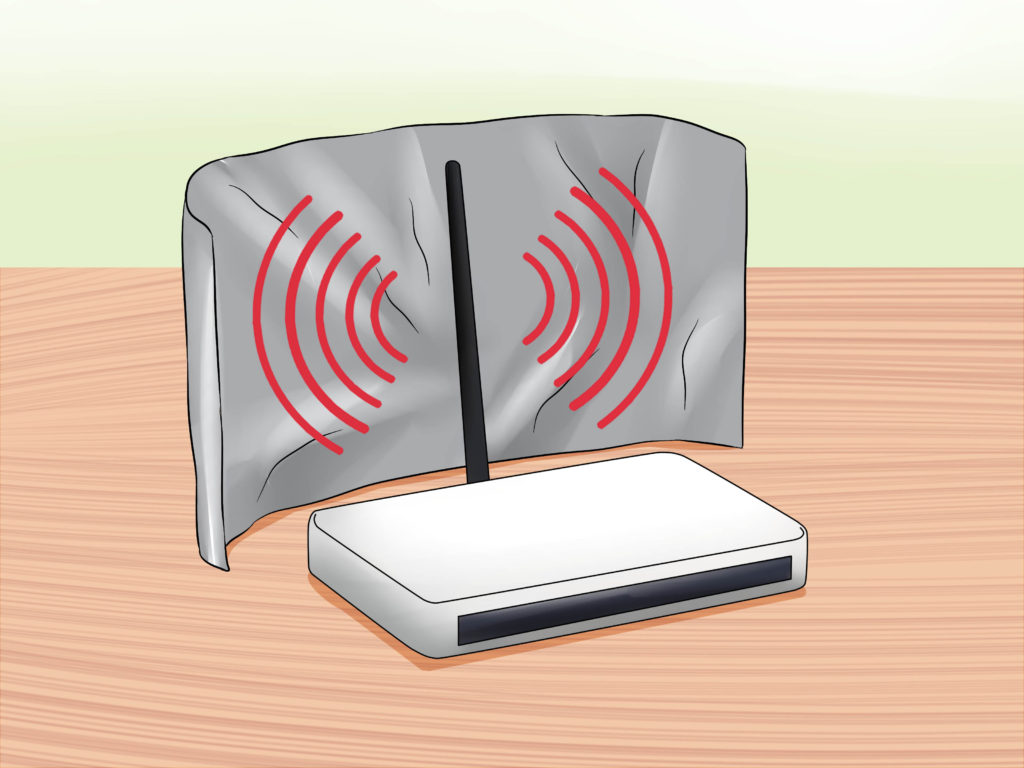 or you can do this: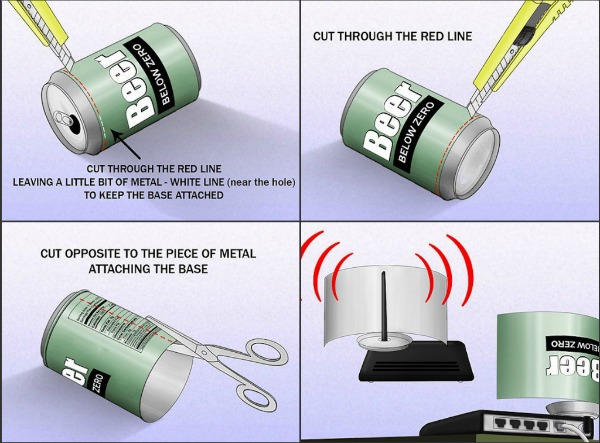 In this way you can easily boost your WiFi signal within your home, just make sure you position it well rounded and higher ground.
Parting Words:
Now that you know all there is to know about boosting your Wi-Fi network, you're all set to enjoy some quality browsing without having to invest in a new router.
Make sure that you not only follow the tips mentioned above but integrate them within the core of your browsing habits.
Happy browsing!