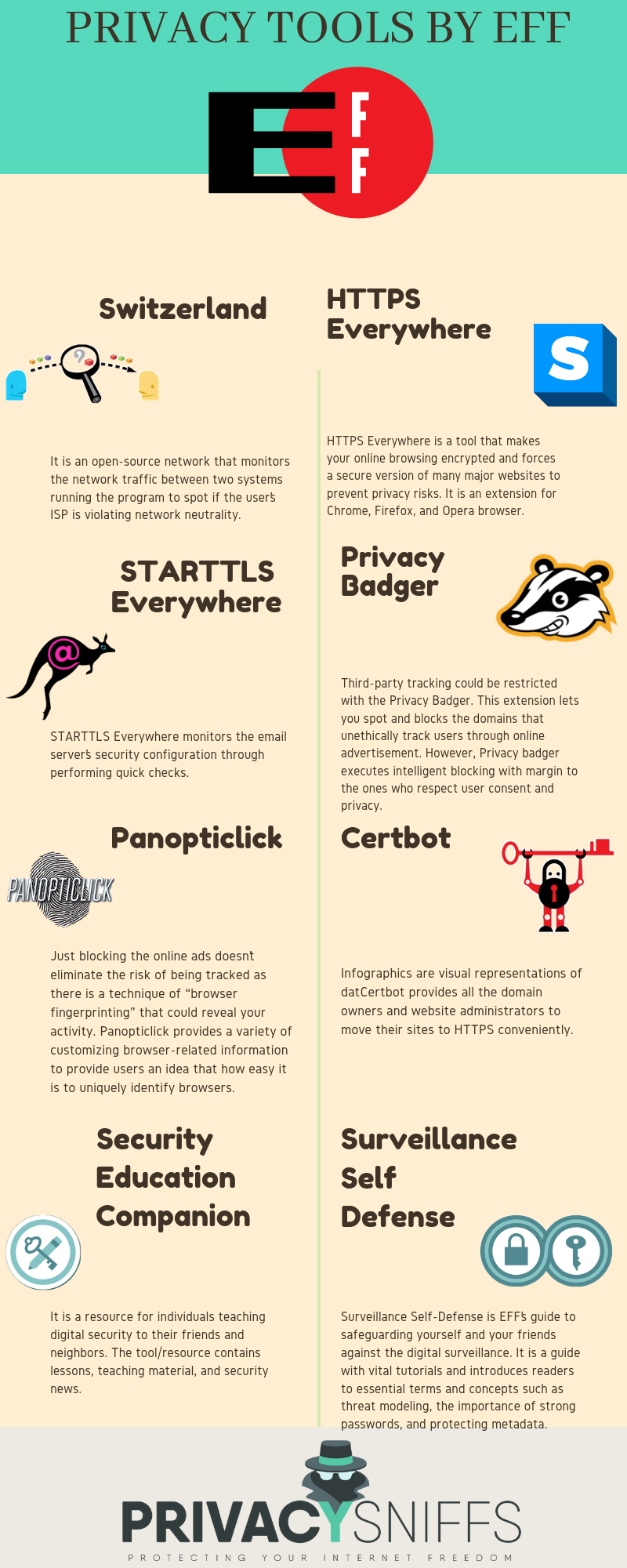 EFF team has come up with many online privacy tools for the netizens to experience protected browsing.
These tools are designed by technological experts and computer scientist engineers to efficiently resolve the issues of intrusive tracking, inconsistent encryption, unprotected browsing, and more.
These tools are extensively used by internet users and are largely recommended by privacy advocates.
HTTPS Everywhere
HTTPS Everywhere is a tool that makes your online browsing encrypted and forces a secure version of many major websites to prevent privacy risks. It is an extension for Chrome, Firefox, and Opera browser.
Privacy Badger
Third-party tracking could be restricted with the Privacy Badger. This extension lets you spot and blocks the domains that unethically track users through online advertisement. However, Privacy badger executes intelligent blocking with margin to the ones who respect user consent and privacy.
STARTTLS Everywhere
STARTTLS Everywhere monitors the email server's security configuration through performing quick checks.
Certbot
Certbot provides all the domain owners and website administrators to move their sites to HTTPS conveniently.
Panopticlick
Just blocking the online ads doesn't eliminate the risk of being tracked as there is a technique of "browser fingerprinting" that could reveal your activity. Panopticlick provides a variety of customizing browser-related information to provide users an idea that how easy it is to uniquely identify browsers.
Surveillance Self Defense
Surveillance Self-Defense is EFF's guide to safeguarding yourself and your friends against the digital surveillance. It is a guide with vital tutorials and introduces readers to essential terms and concepts such as threat modeling, the importance of strong passwords, and protecting metadata.
Switzerland
It is an open-source network that monitors the network traffic between two systems running the program to spot if the user's ISP is violating network neutrality.
Security Education Companion
It is a resource for individuals teaching digital security to their friends and neighbors. The tool/resource contains lessons, teaching material, and security news.