If you're looking for a browser packing built-in VPN functionality, you've landed on the right page. There are many good options on the market, and today we'll be looking at the most reliable VPN browsers in depth.
A word of warning about VPN browsers and  extensions
Generally speaking, you have to be careful with VPN browsers and extensions (especially free ones). In most cases, they will not actually encrypt your Internet traffic, meaning that your activity is baldly available to be viewed by anyone with the interest and means to do so. The reason is simple, most "browser VPNs" are actually mere proxy extensions, which only serve to reroute your connection through a remote server without any boost to security. Some may employ strong encryption, others may not.
Got your attention? Here are a few key disadvantages you'll likely run into with most VPN/proxy browser extensions:
Run ads and trackers in the background
Poor Internet connection speeds, up to 70% slower than usual
Negative impact on device/browser performance
Will not unblock the sites you want to unblock, like U.S. Netflix
Filetype restrictions, for example torrenting
Why you should pass on Opera VPN
Let's take the popular Opera browser for example. Here are a few reasons to keep looking for alternatives:
The Opera VPN is notoriously unreliable, and may simply decide not to work at times
Awful network performance – you'll definitely notice the speed drop
No VPN support for mobile (Android, iOS) versions of Opera
VPN functionality only works within Opera, leaving your other apps unprotected; in fact, Opera's VPN is really more like a secure proxy than a VPN, which encrypts every packet of data that leaves your device
Instead of struggling with unreliable VPN browsers/extensions, we recommend that you use a dedicated VPN application on your device. Such programs tend to have better performance, more utility, and don't cost a lot of money. What's more, you can stream, unblock websites, watch any country's Netflix and get the fastest torrenting speeds, all without changing your current browser.
Best standalone VPNs you can use with your current browser
For the ultimate blend of performance, privacy, and price, check out these two top-tier VPNs:
ExpressVPN is widely considered to be the best of the best in the VPN world, largely due to its namesake speed. You'll never have to worry about slow downloads, buffering videos, or crummy VoIP conversations; everything just works like it should. This butter-smooth performance belies incredibly powerful privacy protections, including 256-bit AES encryption over OpenVPN and a thorough zero-logging policy to cover your tracks online.
You'll have access to an impressive network of VPN servers, numbering 3,000 strong across 94 countries worldwide – enough to get an IP address from basically anywhere you'd want. Software is available on all major operating systems, plus there are robust browser extensions available for Chrome and Firefox.
BEST OVERALL VPN: ExpressVPN is our top choice VPN provider. Our readers get a 49% discount and three months FREE on the annual plan. With 30-day money-back guarantee, no questions asked to try it risk-free.
One of the oldest and most trusted names in VPNs, NordVPN is a true titan of its industry. Just have a look at their colossal server network, numbering over 5,700 nodes in 60 countries worldwide. No matter where you are (or where you'd like to connect to), there's likely to be a secure, fast connection option available to you (or several).
Hyper-secure 256-bit AES encryption via OpenVPN locks down your data stream, obscuring it from most forms of censorship, surveillance and hacking alike. There's also an independently audited zero-logging policy that stands up to its claims to keep no records of your activity online. Whether you're trying to access blocked sites, torrent securely, or simply boost your general anonymity, NordVPN is hard to top.
BEST BUDGET VPN: NordVPN is giving our readers an exclusive 70% discount for their 3-year plan. Pay only $3.49 per month and test-drive the service with a 30-day money back guarantee.
Best browsers with built-in VPNs
As mentioned before in our analysis of Opera, built-in browser VPNs tend to have some limitations. The most important of these is worth restating here: if your browser is the only app being secured on your device, you are still vulnerable.
Instead, you should view browser VPNs as secured proxies, which can be useful to change your IP address to unblock websites and streaming services (your mileage may vary). They may be slower and less stable, but in a pinch, they may just do the trick.
If you'd rather not spring for a standalone VPN, check out these browsers with built-in VPNs: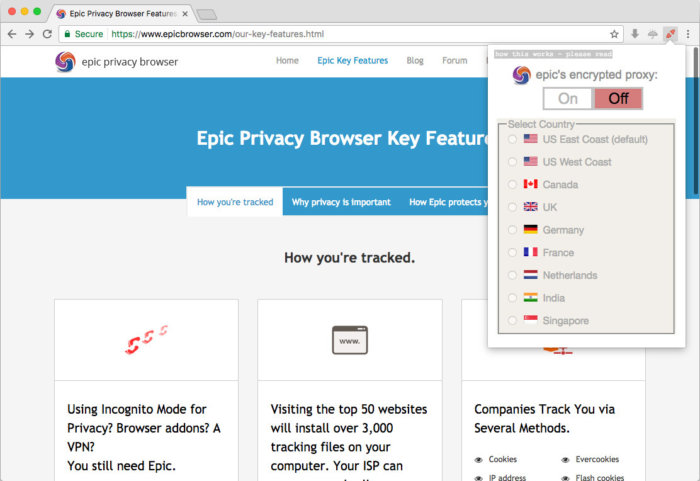 Epic Browser offers a host of features that genuinely boost your privacy online, though it stops short of offering full VPN functionality. Essentially, you can scrub your IP address clean of identifying data through use of Epic's built-in secure proxy, then route it through to virtually any region in the world.
But that's not all, Epic Browser employs an always-on ad blocker, which is native to the browser rather than a third-party extension. Epic also blocks tracking scripts which can be used by advertisers to target their prospects. While other major browsers make incognito mode an option, Epic Browser makes it a default. Data like cookies, browsing history, and browser cache are automatically cleared out whenever you close Epic. Essentially, Epic takes care a lot of the privacy-focused housekeeping for you, allowing you to automatically follow best practices for safer browsing without sparing an extra thought.
Unfortunately, Epic is a Chromium-based browser, and thus falls under the umbrella of Google's (aggressive) data aggregation. If you're okay with that, then Epic isn't a bad choice to auto-enforce some good privacy options in your daily browsing.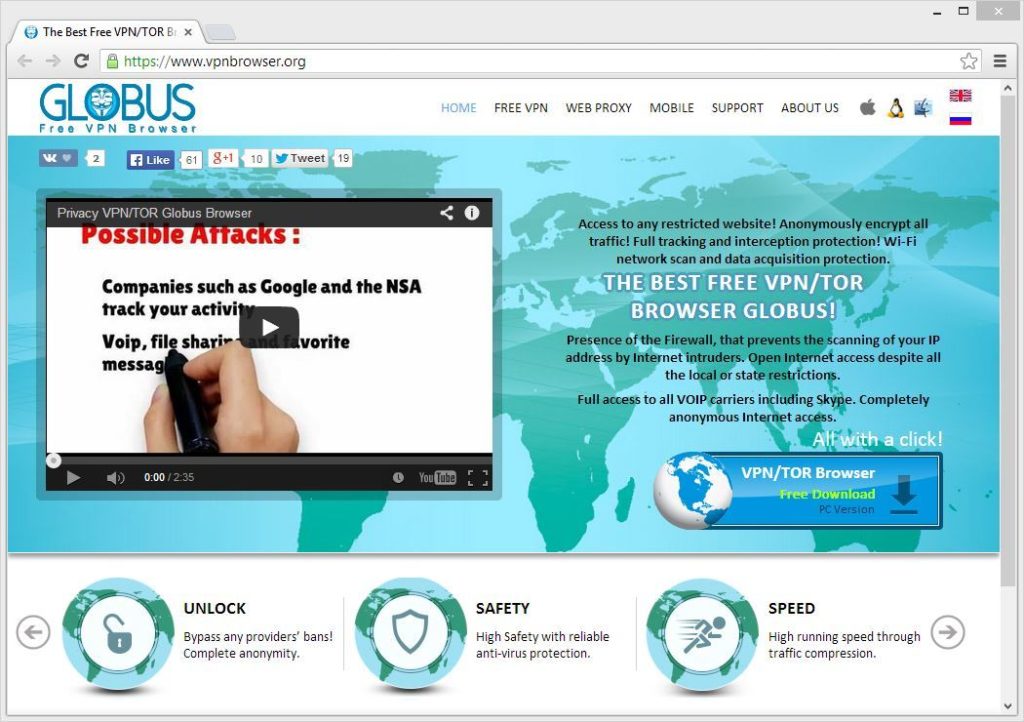 Another Chromium-based browser, Globus seeks to enhance your privacy online without requiring an advanced degree in computer science to operate. In fact, with just a single click, you can activate the best of what this VPN browser has to offer.
And what is on offer? Included in the Globus package is an encrypted proxy that allows you to get past geoblocks, plus a built-in firewall to help hide the fact that you're spoofing your IP address. Even better, when you download Globus, you also get the Tor browser simultaneously–useful for anyone living in or traveling through countries with repressive Internet censorship measures in place.
The Globus VPN browser starts with your system instead of being connected to your browser and it turns off when you shut down your system. There are no ads, it's dead simple to select your proxy server, and generally provides a modern browser experience. Unfortunately, it can be difficult to tell whether your connection is currently routed through a secured server, as the On/off switch is always ticked. Hopefully, they fix this in the future.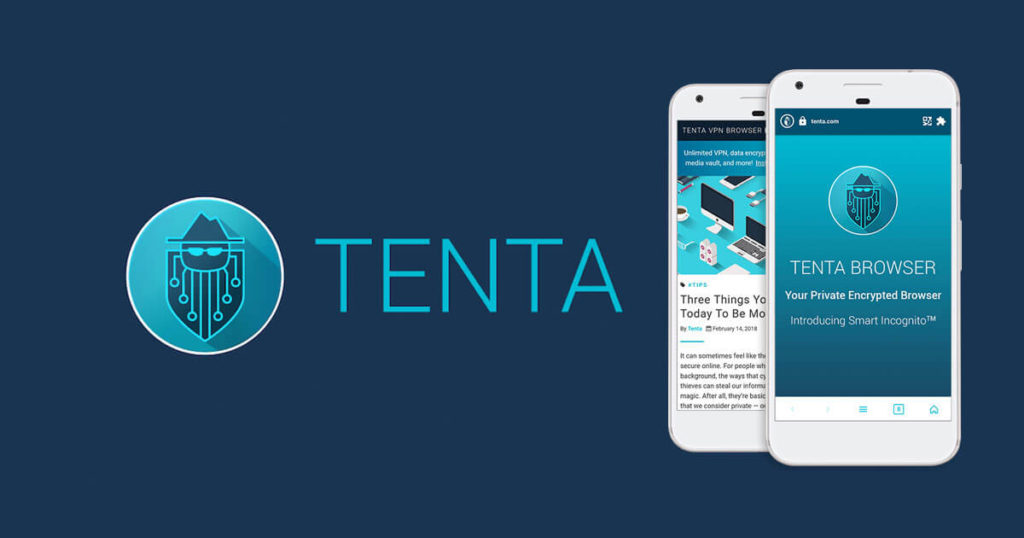 Tenta is a relative newcomer to the VPN browser market, but presents an attractive package to privacy-minded users. When browsing with Tenta, your connection is defaulted to the company's secure proxy servers, ensuring you never have to fiddle with toggles or buttons to access privacy provisions. Even better, that encryption is the incredibly powerful 256-bit AES over OpenVPN, so you really don't have to worry about attacks coming through your browser.
Other secure tools include PIN lock, DNS over TLS, ad blocker, and HTTPS everywhere. It's not security related, but we loved the video download option for saving our favorite clips from YouTube and other sources. There are no data limits, and you can even connect to different VPN servers on each tab. There are only three countries represented in the slim server list, but they're all useful locations (U.S., Netherlands, Singapore).
It is a free browser with OpenVPN inside the browser and no data limits for the usage. Tenta browser has many to get you excited. For instance, you can connect to different VPN servers in different tabs of the browser, however, currently, there are only four server locations (Miami, Seattle, Netherlands, and Singapore).
So why isn't Tenta higher on our list, despite its strong offering? It's only available for Android, which leaves a lot of users searching for applicable alternatives.
Best free VPN extensions for browsers
While we strongly believe getting a standalone VPN is the best option for enhancing your privacy online, we recognize that not everyone wants to pony up for a monthly subscription. What's more, old habits die hard, and many users may be less willing to switch to a more private VPN browser like the three we mentioned in this article.
In this case, you could try a free VPN browser extension. You'll definitely be sacrificing privacy for the price tag (or lack of one), but it may just do the trick for casual users or if you're in a pinch.
Use these free VPN browser extensions, which have a good reputation and decent array of features:
1. ZenMate VPN
ZenMate VPN is a popular choice for those who want basic VPN functionality without spending a dime. There is a premium option that includes a dedicated VPN app download, but most people will simply spring for the free browser extension. Chrome, Firefox and Opera users can access this extension with just a few clicks.
Free VPNs nearly always have some restrictions, especially on bandwidth and data types, but ZenMate offers unlimited data with its free extension. ZenMate doesn't bombard you with a complicated interface, making it dead simple to unblock content and remain anonymous while browsing.
Drawbacks include a relatively limited array of 4 proxy server locations, and the pop-up ads can be annoying while browsing.
2. DotVPN Browser VPN
DotVPN offers unlimited bandwidth and zero speed caps, making it stand out from most other free VPN extensions. Its interface couldn't be simpler either, just a single button click within your browser enables VPN proxy functionality.
The encryption for most VPN browser proxy services is questionable, but DotVPN boasts a respectable 128-bit AES encryption. What's more, there's a built-in firewall, ad blocker, and even an analytics blocker to dodge ad tracking measures.
Unfortunately, DotVPN doesn't give users the ability to choose their VPN server. For basic secure browsing, this may not be a dealbreaker, but power users are likely to be left unsatisfied with this limitation.
3. Hide.me VPN Extensions
While hide.me VPN's free browser extension does have a 2GB bandwidth cap (a dealbreaker for heavy streamers or downloaders), it does balance it out somewhat with some nice privacy extras. These include IP and DNS leak detection, which gives you a measure of assurance that your connection is private. Unfortunately, there's no ad-blocker, but most users will have one installed in their browser already.
Another notable feature of hide.me is the 24/7 customer support, which can be invaluable if you're having trouble connecting at any time. Like most other free browser VPN extensions, the server options are fairly limited (just 3 nodes), but should be enough for most purposes.
4. Windscribe VPN For Browser
Windscribe VPN offers some features you might not expect from a free extension, including their Remote Omnidirectional Badware Eliminating Robotic Tool (R.O.B.E.R.T.), which helps you to block malware and ads from your device.
Windscribe also claims their service grants U.S. Netflix access, though in our testing this was true somewhat less than 100% of the time. Unfortunately, the 10 GB data limit will probably ensure that you won't be streaming hours of HD content, but it is more than enough for secure browsing.
Conclusion
So there you have it, the rundown on the market's top VPN browsers and extensions. We covered the benefits and risks of using this type of software, using Opera as a high-profile example. You also got recommendations for 2 exceptional full-fledged VPN services that allow you to browse, download, and stream without any of the restrictions more limited VPN applications commonly run into. Finally, we showed you some decent free alternatives in case you're not looking for a heavy-duty privacy solution.
Have you used any of our recommendations before? What VPN apps, browsers or extensions do you use on a daily basis? Let us know your thoughts in the comments section below.