The real joy in gaming online lies with the availability of low ping. However, achieving the ultimate ping level can indeed be a hard task. This is especially so if you are unfortunate enough to experience excruciatingly slow internet speeds.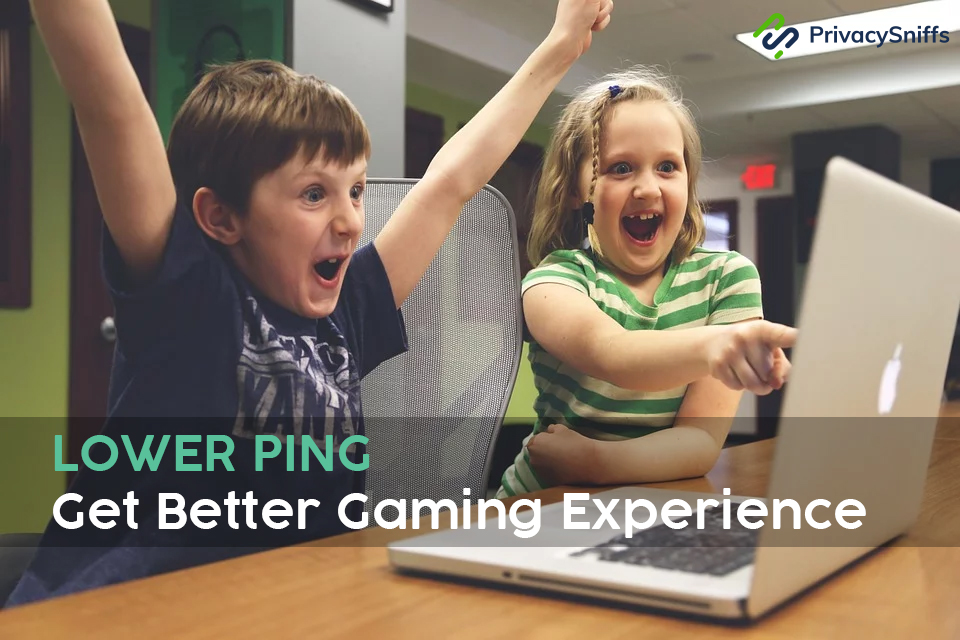 Nevertheless, there are many ways to improve your online gaming experience with VPNs securing a position at the top of the list. As having a low ping is indeed crucial as it helps reduce lags, gives you a competitive advantage over your opponent and what not?
Lower Ping by Tweaking Your Router
This is the first thing to check before going to advance the level of lower the ping time. If you have already checked these things please skip this part and jump on to the guaranteed method to lower the ping time.
WiFi Signal strength: make sure that you are close enough to your router to get super solid WiFi signals.
Background Apps: Check if there are apps running in the background, like Utorrent, BitTorrent or any printer etc.
WiFi Users: limit your WiFi user's or create mac filter around them.
Use LAN: it's highly recommended to use direct LAN connection to get max output.
Bandwith issue: in some case your ISP blocking your out accordingly to your bandwidth limits. make sure you don't have any of that.
Change Your Router: If you are seeing any signal drops and issues in your router, change it.
These are major aspects to check if still getting the issue with Ping Time, then its most ideally you ISP blocking your up, which is also called throttling.
ISP throttling never is claimed by any service provider but they do! Using the best and fastest VPN for gaming will solve the issue, either its throttling or lower ping.
Can VPN Improve Ping Time?
VPNs undoubtedly decrease your online game ping. This is because VPN tends to guide your traffic through faster direct routes as compared to your ISP. Thus as VPNs take up a shorter route, they ensure a quicker and smoother internet connection.
This can adequately be portrayed through the analogy of using stairs or an elevator to travel at the top of the building. Meaning, with the stairs being the ISP, going through them is a hectic task. You might have to cross floors to reach the next flight and on the way can encounter people clustering it.
On the other hand, using an elevator is a stress-free experience where you can easily reach the top without any hassles as the path is one straight line. Also, you can guess when you will reach the top too.
Connection to an excellent VPN service is like riding an elevator too, robust, smooth, reliable and direct. This is because a good VPN server ensures data travelling smoothly from your computer to the server of the game and vice versa.
However, the key is to have a good VPN connection, and choosing that is undoubtedly tough.
Best and Fastest VPN For Gaming 2020
Gaming can be an absolute buzzkill with slow internet connections where you would have to go through frustrating lags. Or worse? The frustration over the sudden absence of pings. Imagine having to lose a winning game just because your internet could not live up to the mark?
However, these are some of the best tried and tested VPN services that ensure the best online gaming experience:
1.    NordVPN
This is one of the fastest and secure VPN services in the market. With over 5700 servers in 60 countries, it guarantees robust and fast connections. Thus with it, you can have a smooth gaming experience.
Moreover, NordVPN is one of the most secure VPN services. It flows user traffic through an encrypted tunnel so that it remains well hidden from the prying eyes of the ISP. This way it protects the ISPs from throttling your connection too.  
The encryption it provides is AES 256 bit encryption, which is military grade. This is particularly awesome as it allows for the ultimate security. It also has an active DDoS shield which very handy in case your opponents get nastily competitive.
It is personally one of my favourite VPN connections. It is fast, secure and extremely reliable and while connected through it, online gaming becomes a novel experience that leaves its users refreshed. With  
2.    CyberGhost
This VPN service comes with colourful promises of high speeds and ultimate security. With offering the military-grade AED 256 Bit encryption, it ensures the protection of the users from hackers, ISP throttling, etc.
The speed here is ensured through the considerate number of about 3000 servers present worldwide. Apart from the speed and the security, it comes with some added features such as ad-blocking, free proxy and highly effective antivirus.
This way, it ensures that your online gaming experience is smooth and secure.
3.    Surfshark
If you are in search of a speedy and secure VPN connection, then surfshark is the answer for you. Although it comes with a limited number of 800 locations, it promises excellent, swift connections. They take providing high speeds very seriously.
Therefore, to ensure high speeds, instead of the standard AES 256 bit encryption CBC algorithm, it provides a faster AES 256 GCM algorithm.
Moreover, it has a dedicated feature that stops viruses from entering the device. It is available for various platforms through applications. All in all, it promises a great online gaming experience for you.
4.    Outfox VPN
From the founders of VyperVPN that is known to be one of the best VPN service providers, this VPN service is equally excellent.  With its superb features, these guys have made sure to have outfox live up to their reputation.
Outfox is specifically built for gaming and therefore promises the ultimate online gaming experience for you. By directing traffic though specifically gaming optimized networks, outfox ensures that you have a reduced ping, experience zero lags, and there is a significant increase in speed.
Apart from that, it is programmed to provide the optimal connection to its users. It finds the link by fastidiously taking into consideration factors such as user location, traffic condition, and game server locations. It thus chooses the fastest server automatically. However, you can select the server manually too. To sum it up, its features are indeed promising the best gaming sessions.
5.    WTFast
With being partners with some of the highest tech giants such as ASUS, MASI, etc. Threfore, this VPN service is the go-to VPN for some of the professional gamers.
The WTFast Gamers Private Network is a client/server solution offered by the VPN provider, which ensures that online gaming is faster. Moreover, it also has dedicated software for its clients. This Software is designed to grab latency-sensitive data online.
This feature works by sending the data through a global network of over 100 servers. This way, it ensures low pings and thus, robust online gaming.
Apart from that, it also optimizes gaming connections from every end for better gaming. With this VPN connection, you are guaranteed to experience reduces pings, low average latency along with minimized flux that enriches your gaming connections.
6.    Mudfish
This reasonably decent VPN service comes with a variety of unique features that are designed to provide its users with flexible gaming solutions. It is designed with a distinctive set of optimization techniques that ensure a fast, stable and secure connection.
It offers WAN optimization. Which is particularly reliable for TCP and UDP users. Also, it allows a significant boost in networks.  However, the best feature it provides is the flexible payment plan. With which you can pay for as per the bandwidth plan you are choosing.
Thus this is a super fast and highly affordable online gaming solution for gamers.
Finally
Online gaming is undoubtedly addictive. However, it is only enjoyable in optimum conditions. Thus now that you can achieve those ideal conditions through one of the VPN services we have listed. Therefore it is about time to gear up and get on gaming!!