If you are looking for a VPN service which provides secure and anonymous browsing along with super-fast speed and allows you to stream the internet with complete freedom than Ivacy VPN should be your choice.
Ivacy VPN is one of the leading VPN service available in the market these days and is enriched with all those features, which people are looking for, but, they can find all in a single product.
Let's find more about Ivacy VPN.
Ivacy VPN is a Singapore-based VPN, which fulfills all the needs of a user, which they look in different VPN services, and also is money worthy.
It is available in more than 100 different locations across the globe along with 1000+ servers. It supports most of the operating systems, such as Android, Windows, iOS, Kodi, Mac. Moreover, it also supports Chrome and Firefox extensions.
Now, you might be curious to know more about Ivacy's features and services.
Well! In short, Ivacy is a torrent-friendly VPN which means that it supports P2P file sharing and downloading. You can easily upload or download any file or material without the fear of getting caught.
A few days back, my friend was in search of a VPN, which she could afford and which might prove to be a perfect choice for her. After a lot of research and taking suggestions, she finally chooses Ivacy VPN, and she's quite amazed and impressed by the service offered. She can easily unblock Netflix and watch her favorite season, can change her location at a fast speed, and all this is available at an extremely low price. The only issue she complained off was of unblocking BBC iPlayer, but, her overall experience was terrific.
Apart from being torrent-friendly, Ivacy VPN supports up to five connections simultaneously. It also has enabled kill switch, which protects the user's privacy whenever connection drops or throttles. According to the policy, the VPN doesn't keep any activity logs, thus, proving that there isn't any chance of being caught.
The most appealing features of Ivacy VPN are the protocols it supports. The VPN efficiently supports PPTP, L2TP, OpenVPN, IKEv2, and SSTP protocols.
Now, let's move further and dig more deeply about Ivacy VPN.
Does Ivacy Provide Super-Fast Speed?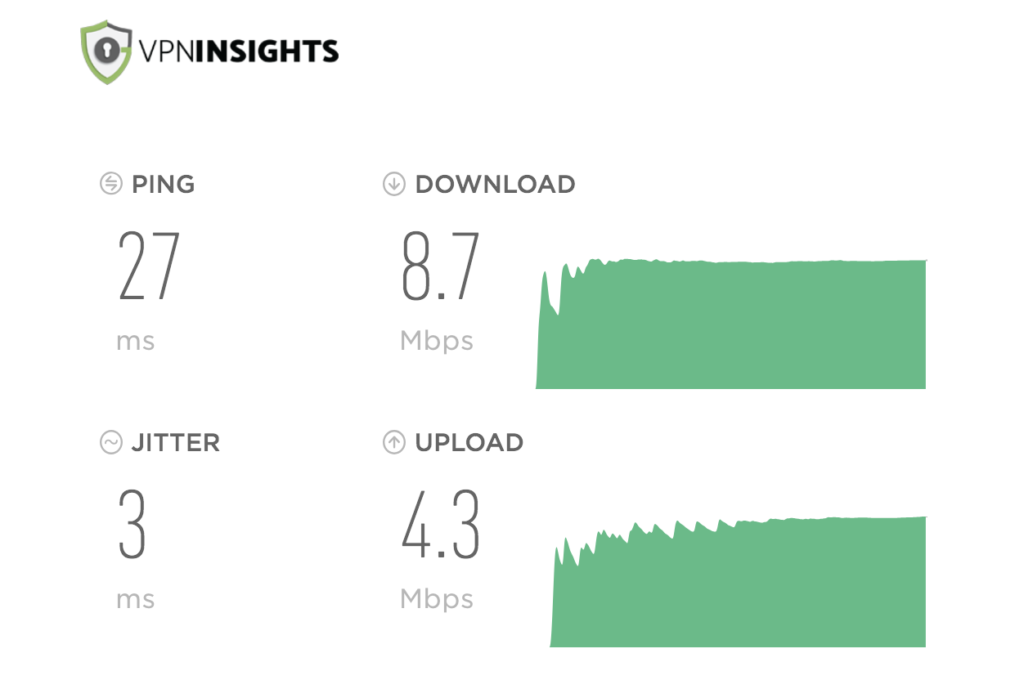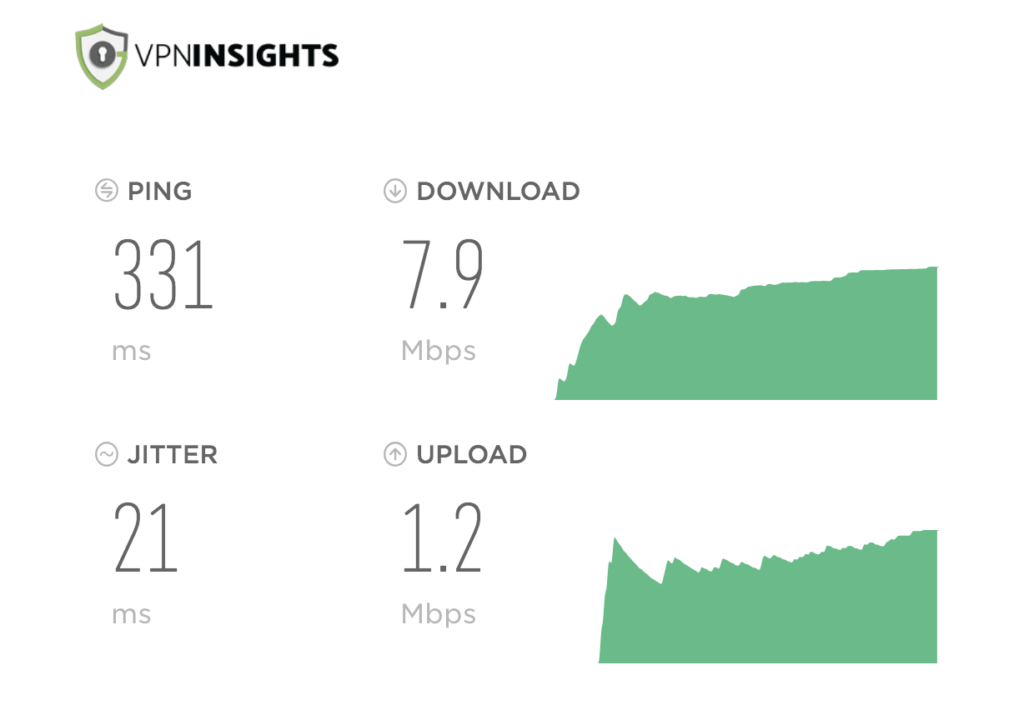 We tested the service with 10Mbps 4G connections and found only 2% reduction, which is good.
Grabbing a user's interest is very important for any service to win the consumer's heart. For this reason, the Ivacy VPN is simple and easy to understand. However, the features are designed with some reasonable level of customization, which is helpful to both beginners and demanding users.
Well, talking about the speed of Ivacy VP, so the results of the speed test were not much pro-founding, and they varied from country to country. As per the speed test, the VPN maintained 38% as an average base speed in five different countries.
The connection in the UK was good, while in Germany, Japan, and the US it was surprisingly strong. However, in Australia, the VPN speed wasn't breakneck.
The speed test results show that Ivacy scored good speed but not high speed overall. However, the speed is enough to stream without any hindrance and buffering. User can smoothly access to Netflix and Hulu, but, won't be able to unblock BBC iPlayer.
To sum up, we can say that speed varies from country. Your VPN connection will hugely depend on the country you are connecting, but, it is not as slow like some of the other VPN providers, and you can surely consider it for use.
Do Ivacy Guarantees Privacy And Anonymity?
For Ivacy user, privacy is their utmost priority and to prove it they guarantee to ensure user privacy and provide them complete anonymity from the snooping world.
Ivacy's privacy policy mentions that they are the advocates of privacy who keep user's privacy first than any other thing. For this reason, they do not keep any traffic and session logs of the users. They do not log a user's web browsing or any other online activity. Moreover, it doesn't collect information about the country from where you connect.
Most of the VPN companies state in their policy and also explains this point that why do they collect personal information. The personal information includes; name, address, email address, payment modes, account details).
There are some other ways by which a company collects user's data. Like through app crash reports and by Google Analytics on the website, VPN companies collect data. It is not at all a great deed, thanks to Ivacy VPN who provides the user with an option that they are allowed to delete their personal information through the website Members Area.
Is Ivacy VPN Cheap?
Yes! For sure Ivacy VPN is available at quite low prices and is affordable by most of the users.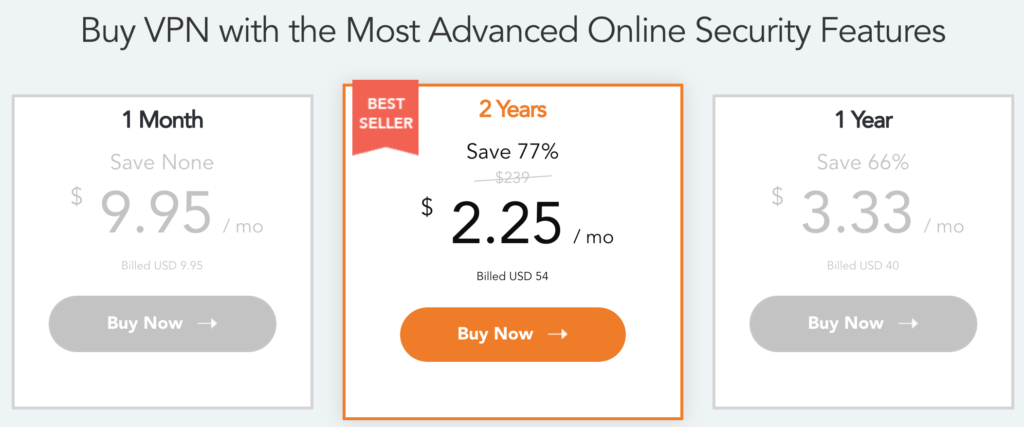 The prices are as low as $9.95 to a monthly payment, while $3.3 for a year up-front, and charges amazingly $2.25 on a two-year plan.
Isn't it cheap?
Well! It is of course. The Ivacy VPN even leaves behind PIA VPN, which charges $2.91 for a two-year plan.
The VPN also charge an extra amount of $1.99 a month for their additional dedicated IP service. Also, it costs $1 per month for supporting port forwarding.
So, you see it much economical in price and also provide some additional services too.
Ivacy VPN accepts payment through different methods. It includes credit card, PayPal, Alipay, Perfect Money, Payment Wall, and also through Bitcoin.
Is Ivacy VPN Free?
No! The Ivacy VPN does not offer any free trial like many other VPNs. However, it does offer 30-days money back guarantee or even a seven-day for monthly-billed accounts.

Here it is important to note that user won't get a refund if they use Bitcoin, Coin Payments, and Payment Wall as their payment method. Thus, be aware of it before signing up.
How Supportive Is Ivacy VPN Site?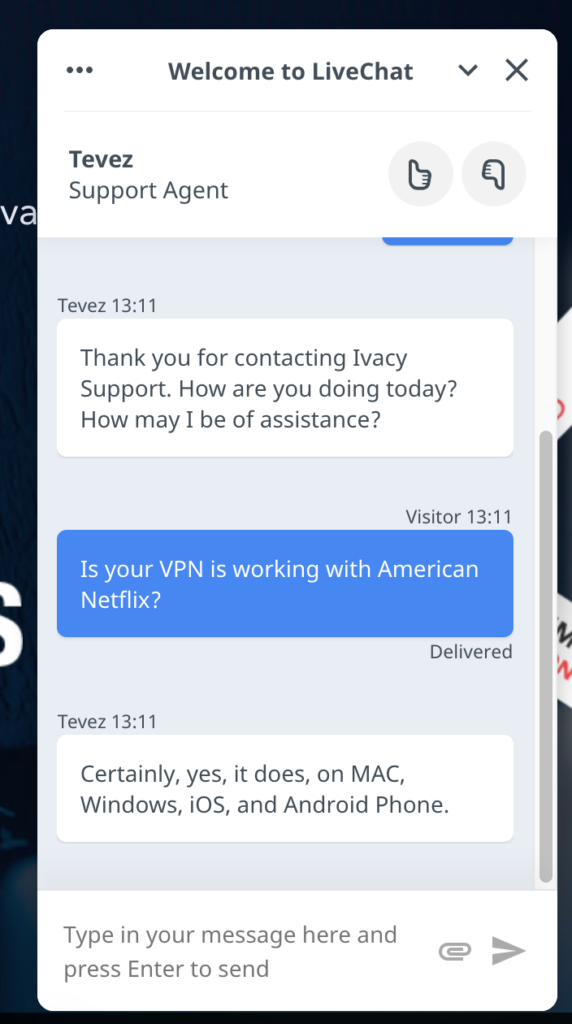 Yes! The Ivacy VPN official site is very much supportive and is available to the users whenever they stuck in a problem. The website has proper guidelines about installation, troubleshooting, along with some other instructions too.
The site also offers 24/7 live chat support option. The option proved to be advantageous for the users as the people behind the chat respond quickly and manages to solve the user's query.
Although the responses are short, precise, and to the point, sometimes, it seems that they haven't answered the question, but, it is the content of the reply, which usually matters, and Ivacy never fails to disappoint their users. They respond rapidly with pretty accurate and valid answers and provide a solution to user's problems.
Reasons to Use Ivacy VPN:
Now, as you might have a clear image about Ivacy VPN, it is now essential to overview reasons to start using Ivacy VPN. We have combined some best reasons to Use Ivacy VPN to boost your browsing experience. Let's have a look:
Encryption:
We all know that public Wi-Fi networks are vulnerable. Through these vulnerable networks, third-party people and hackers can quickly gain access to our online activities.
While traveling or visiting any restaurant, we often assume that the Wi-Fi network is secure which in reality is not. Hotel and airports Wi-Fi are vulnerable to attacks.
Hackers can efficiently run automated systems on these networks and can spy on users to conduct brute-force attacks on your accounts.
The brute force attacks will target a particular website's login page and will try to crack username and password combinations. They do so by running endless variations until they succeed in their mission.
Here it is important to note that brute force attacks work exceptionally well when encryption is weak. The weaker the encryption, the faster and more easily it can be identified.
However, if the encryption is strong enough, then it is hard to crack it. In other words, it is difficult to even impossible to break robust and robust encryption.
256-bit encryption is known as one of the strongest encryption available today. Most of the government agencies and security companies use this encryption.
Well! If you are looking for powerful encryption, then Ivacy VPN should be your choice. Ivacy provides 256-bit encryption to their user which means that the connection is super-protected and secured. Also, it is impossible to get hack by attackers while you use Ivacy VPN.
Isn't it amazing?
2. Unlimited Speed:
Another appealing feature of Ivacy VPN, which compels the user, is its unlimited speed. Ivacy VPN provides fast speed at all times. Also, Ivacy VPN was awarded the Fastest VPN award in 2019.
So, what are you waiting for? Buy Ivacy VPN and enjoy your browsing experience.
3.   Unlimited Bandwidth:
Ivacy VPN offers unlimited bandwidth to its users. In other words, there aren't any limitations or caps on the bandwidth, and you can freely upload and download any content/material by using Ivacy VPN. Therefore, it is highly recommendable to use.
4.   Multiple Protocols and Logins:
Ivacy VPN should be used because it offers various VPN protocols, which ensure user's security and maximum protection. These VPN protocols include L2TP, IPSEC, IKEV, and OpenVPN.
Another benefit of using Ivacy VPN is that you can simultaneously connect to five different devices from a single account thus, can also protect them at the same time.
5.  Split Tunneling:
It is a protective feature enabled in Ivacy VPN. It increases its worth in the market place. This feature allows the user to split and prioritize their traffic data.
Users can route their most essential data via the VPN tunnel, and less critical data passes without the cover of a VPN.
What are the Cons of using Ivacy VPN?
Like every other thing, Ivacy VPN also has some disadvantages. Now, let's find out some cons of Ivacy VPN:
1.    Netflix Servers doesn't Work:
The most important and in my view the biggest drawback of Ivacy VPN is that the zero out of four Netflix server failed to work.
The VPN was tested on the Netflix server, and it failed to work in the following countries:
Canada
Netherlands
United Kingdom
United States of America
It is confirmed on Ivacy's official site that as per the situation, the Internet users will have to deal with Netflix's ban policy over the VPN.
So, if you are a resident of any of the above four states, and then Ivacy VPN won't work with Netflix.
2. Neither TOR nor Proxy Compatible:
Ivacy VPN isn't compatible with both Tor and proxy service. Although it is a minor displeasure for most of the VPN users, it disappoints me a lot.
However, not being compatible with TOR or proxy doesn't affect the overall VPN experience. But both these services provide additional security layers to your network. Also, they protect you if you are living in any country with strict governance.
3. Singapore is a partner of Five Eyes:
We all know that Five Eyes is a surveillance alliance, which is the worst nightmare of privacy advocates.
Any country who is a member of this alliance can quickly obtain user information, data, and location without the consent of the user.
Some leaked documents reveal that Singapore and South Korea, which is the country headquarters of the company, are now the partners of the Five Eyes Agreement.
Though, it shouldn't have any effect on Ivacy's security and performance because the privacy policy mentions that they don't keep any logs. But you must be aware of the political landscape, which is surrounding the company's control center.
Is Ivacy VPN Recommended to Use?
To sum up all, Ivacy VPN is a good quality VPN with satisfactory speed, affordable price, and exceptionally high-quality customer service.
It is smooth and easy to use with some decent level of customization, which is acceptable for both newcomers and users using it for a long time.
However, not everything is perfect, in the same way, Ivacy VPN is also not ideal in all way. There are some cons to using it. The pros of Ivacy somehow prevail over the disadvantages.
Therefore, if you want to use Ivacy VPN so, it is fine and okay to go with it. However, there are better options than Ivacy VPN.