Not being able to unblock ESPN in Europe and watch all your favorite sports is a drag. With a VPN, however, you never have to miss your team's latest match ever again. Today, we'll show you how to get started in just a few minutes.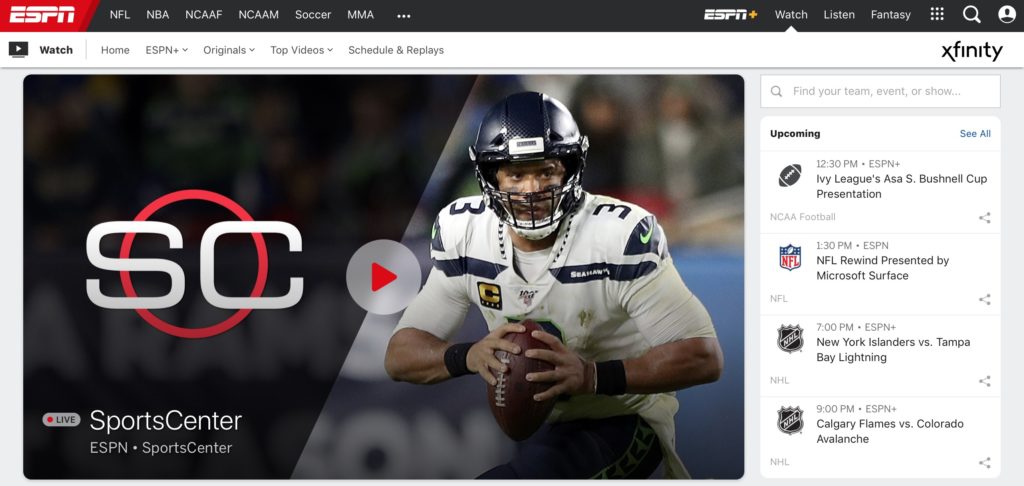 ESPN is one of the USA's best-loved sports channels. It claims to attract at least 86 million viewers and is home to some of the country's most popular sports. Unsurprisingly, plenty of people stream ESPN's sports coverage online, but like many premium broadcasters, they are fairly precious about who can and cannot watch.
If you try and watch ESPN in Europe, or anywhere outside the USA, you will find that their service is blocked to you. Even if you have a perfectly legitimate ESPN subscription, you still won't be able to watch if you are outside the USA.
This is because ESPN places geo-restrictions on their content, something which causes a huge amount of inconvenience to their many subscribers who have to travel for work or are off on holiday and don't want to miss their team's matches.
Fortunately, there is a way around these geo-restrictions. All you need is a VPN and in this article, we are going to explain exactly how a VPN can help, what you need to do, and which VPN is the best one to use.
Best VPN to Unblock and Watch ESPN in Europe
ExpressVPN – Best VPN to Unblock and Watch ESPN – Fast connection speeds, multiple US-based servers, strong encryption, excellent privacy protections, and outstanding apps for almost every device. Ticks all the boxes.
NordVPN – A great budget option with high-grade encryption, good speeds, a large server network, and well-designed apps. A premium VPN at a budget price.
IPVanish – Established VPN with lots of US-servers, first-rate apps, strong encryption, and 10 simultaneous connections with every account.
PrivateVPN – Military-grade encryption, unique IP addresses, super-fast speeds, and plenty of US servers.
PureVPN – A massive global server network, decent speeds, an independently-verified no logs privacy policy, and popular apps for most devices.
Understanding ESPN blocks in Europe
ESPN pays a premium for the rights to show coverage of many of America's most popular sports. But these rights are sold off by country and ESPN therefore cannot broadcast in every location without an unlimited budget.
This is a big reason why ESPN has to block access to its streaming services overseas. ESPN also has its own international channels which charge a fee and it is keen that overseas users choose these instead.
To block access, ESPN uses a technique known as geo-blocking. Geo-blocking technology is very simple; when you visit the ESPN website, they take a look at your IP address. This is a unique code that you send to every website automatically which tells them precisely where in the world you are connected to the internet.
If your IP address tells them you are outside the USA, they block you from streaming anything on their US website. Depending on where you are, you may get an error message, or be redirected to ESPN's local service.
Fortunately, while geo-blocking is easy to implement, it is also easy to bypass.
How a VPN bypasses ESPN's geo-restrictions
To get around ESPN's geo-restrictions, all you need is a VPN. VPN stands for Virtual Private Network and is a common online security and privacy tool. A VPN works by encrypting all of your internet data and then redirecting it through an external server.
When your data passes through this server it is tagged with the IP address of that server instead of your own IP address. This is the clever bit.
Switching IP addresses is primarily a privacy-function as it stops your ISP tracking your activity and websites identifying you. But VPNs operate servers in locations all over the world and a side-effect of this process is to unblock geo-restricted content.
ESPN will only let US-based users stream their coverage. But if you connect to a VPN server located in the USA, you will be given a US IP address. If you then visit the ESPN website, they will think you are located in the USA and so let you stream whatever you want.
How to choose a great VPN provider
It's easy to unblock ESPN with a VPN but the tricky part is choosing which VPN to use. Some VPNs are much better than others, though they all loudly claim to be the best.
We have put the major VPNs to the test to see which is best at bypassing geo-blocks. During our research, we identified the core features that all the best VPNs need to unblock ESPN in Europe:
US-based servers – Almost all VPNs offer US-based servers but some offer more than others. The quality can vary too. What you need is a VPN with as many high-quality US-based servers as possible. A huge server network isn't always a guarantee of this, but it often works out that way.
Fast connection speeds – Streaming can be data-intensive and if your connection isn't fast enough you will experience buffering issues. Some VPNs can slow connections down, but the best have a minimal impact and are perfect for streaming.
Multiple device compatibility and connections – People stream content on all sorts of different devices, and if you are traveling it is likely you will use a mobile device, Firestick, or laptop. You'll need a VPN that's compatible all your devices so you always have access to your favorite matches.
Strong encryption – ESPN doesn't like you using a VPN to unblock their content so you want to be sure your VPN is using the strongest possible encryption to keep your data secure and prying eyes out of your activity.
No user logs policy – It's important not to leave behind tracks when bypassing geo-blocks, so make sure your VPN doesn't keep logs which can be used to identify you.
Top 5 VPNs to unblock ESPN in Europe
Using the above core criteria as our guide, we identified the best VPNs for bypassing geo-blocks and watching ESPN in Europe. Here is the rundown of our recommendations:
ExpressVPN is our number one recommended VPN to unblock and watch ESPN in Europe. It has one of the biggest server networks of any premium VPN with more than 3,000 servers in 94 different countries including hundreds of servers in 30 different locations across the USA. As the name suggests, ExpressVPN's connection speeds are second to none and, just as importantly, consistent across all their US servers.
It has a fantastic range of high-quality apps available for every major operating system, and you can connect five devices simultaneously with every subscription. The encryption ExpressVPN uses is 256-bit AES which is military-grade and their no user logs policy is one you can trust thanks to their privacy-friendly jurisdiction in the British Virgin Islands. You also get a terrific 24/7 customer support and a 30-day money-back guarantee.
BEST FOR ESPN EUROPE: ExpressVPN smashes geoblocks, allowing you to stream ESPN in Europe. Get an exclusive 49% annual discount, plus 3 months free. Try it risk-free with a 30-day money-back guarantee.
NordVPN is a high-end VPN available for a budget price. Its server network is a big one with 5,100+ servers available in 60 locations around the world. This includes more than 1,800 servers in 20 different US locations. NordVPN has been investing heavily in its infrastructure of late meaning that connections are much improved and fine for streaming ESPN.
NordVPN uses 256-bit AES encryption as standard and also offers extra security features including obfuscation, multi-hop servers, and Onion-over-VPN servers. It is based in Panama which means its no logs guarantee is 100% dependable. NordVPN offers a fantastically designed and user-friendly app for almost every device. With six simultaneous connections, a 30-day money-back guarantee, and hugely competitive prices, NordVPN is a great choice for heavy streaming and daily usage alike.
BEST BUDGET VPN: NordVPN is your cheapest solution for a premium service. Readers get the 3-year plan with a 70% discount at just $3.49 per month. All plans include a 30-day money-back guarantee.
3. IPVanish
IPVanish is an established VPN with a big server network. It offers more than 1,300 servers in 75+ locations including 700 servers in 17 different US cities. These servers all offer consistently fast speeds that are perfect for unblocking ESPN in Europe.
IPVanish has some of the best VPN apps around and with 10 simultaneous connections, it is the perfect VPN to share with family or friends. It uses 256-bit AES encryption as standard and also offers robust privacy protections. The money-back guarantee is only 7-days but that should still give you more than enough time to try them out.
4. PrivateVPN
PrivateVPN is a VPN with strong security and fast speeds making it ideal for unblocking ESPN in Europe. Its 256-bit AES encryption uses a 2048-bit DH key making nigh uncrackable by brute force. Despite this, PrivateVPNs speeds are also the among the quickest of any VPN we tested.
PrivateVPN's server network is less expansive than other top-tier VPN providers, with just 150 servers in 60+ countries. But there are still multiple servers across nine different US locations, perfect for bypassing ESPN geo-blocks. Throw in great apps, six simultaneous connections, and a 30-day money-back guarantee, and PrivateVPN is a real contender.
5. PureVPN
PureVPN more than 2,000 servers in 140+ countries around the world making theirs one of the widest-ranging server networks of any VPN. It includes several hundred servers in 13 different US cities. As well as servers, PureVPN offers strong encryption with 256-bit AES as standard and a no user logs guarantee that has been independently audited and verified.
The PureVPN connection speeds are more than sufficient for unblocking ESPN overseas and its apps impressed us. There is a 31-day money-back guarantee with PureVPN which gives you plenty of time to see if PureVPN does what you need.
Using your VPN to watch ESPN in 5 steps
Once you have chosen your VPN, the next step is to get everything set up so you can enjoy ESPN in Europe (or wherever you are). This is a lot easier than you might think. All you have to do is follow these few simple steps and you will be streaming your favorite team's next big match in no time.
Sign up to your chosen VPN by clicking on one of the links on this page and following the simple onscreen instructions that follow.
Download the VPN's app from either from its official website or your app store.
Open the app and log in to your account using the details given in step one.
Choose a US-based server either by searching through the server list or clicking on the USA on the map of servers (depending on which VPN you are using).
Click connect (if you need to) and wait a few moments until you have established a connection.
That's all there is to it. Now just visit the ESPN website, log into your account as normal, and start streaming. If you find it still doesn't work, just try another US-based server. It shouldn't take more than a couple of goes before everything is working fine.
Can't I just use a free VPN?
By all means try if you want to, but our tests and research tell us free VPNs are simply not worth the hassle.
Sure, you might save a couple of US$ a month but the trade-off is barely worth it. Free VPNs have to make a profit somehow and they often do this either through pop-up advertising or selling user data to third parties. Neither is a good thing for their users.
There is frequently a limit on the amount of data you can use with a free VPN. If you are streaming ESPN, you are likely to use this up in a few moments. And many throttle speeds on users that are streaming because of the limitations of the network. That means even if you can watch, your stream will be beset with buffering issues.
Even worse, the privacy provisions of most free VPNs is usually not up to snuff, leading you to activity that is risky without the protection of strong encryption. In fact, these security leaks can make you less safe than using no VPN at all.
Free VPNs are quite simply a waste of your time. All of our recommended VPNs offer an infinitely better service at a cost of just a few dollars a month. It really is a no-brainer.
Summary
You can stream ESPN in Europe or anywhere else in the world without any problems if you use a VPN. In this article, we have explained exactly why this is and also recommended the best VPN for the job.
ExpressVPN is our number one recommendation and we have explained why and told you exactly how to get everything set up.
Have you used a VPN to unblock ESPN overseas? Is there anything we have missed out or any tips you have for our readers? We always welcome input from all our readers so why not leave your thoughts in the comment box below.