A recent survey carried out by Bilendi on behalf of GMX- the European email service provides alarming findings related to password usage. The study which was conducted with a total of 1,050 participants concluded that about 64% of people use the same passwords for most or all of their online accounts.
Apart from that, there are 21% of people who have a different password of each account while 9 % of people don't ever change the password to their main accounts. These practices leave these people highly sensitive to cyber-attacks.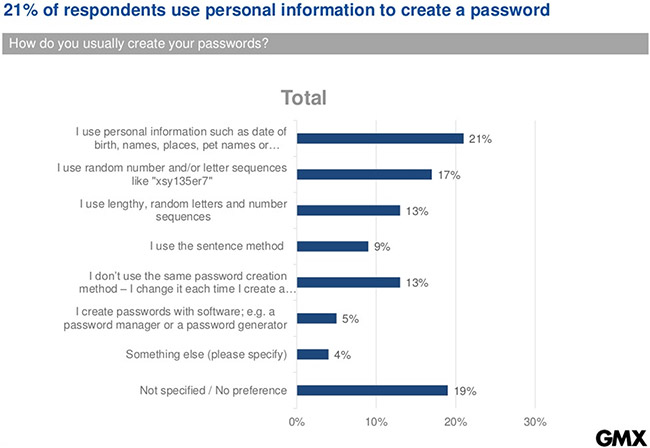 As said by Jan Oetjen, the Managing Director of GMX "It's important for everyone to take the security of their email accounts seriously, as these are at the center of our digital lives. Once hackers have access to your email account, they can quickly take over the rest of your digital accounts by using it to reset all your passwords. Many of these accounts store your credit card or banking information. Moreover, hackers are getting very creative at finding new ways to extract money from victims."
The other deductions of the survey are:
21%C people revealed that they use personal information such as their pet's name, the name of their favorite food or birthdays while setting up a password. This task makes the password weak and is risky as this general information is mostly available on everyone's social media sites.
43% of participants complained that remembering several passwords was an 'overwhelming' task while the 30% said that they have at least 10 different accounts
8% claimed that having a divorce or changing jobs is far less stressful than having to remember multiple passwords
40% of users claimed to remember their passwords while 20% said that they preferred to write them down somewhere on paper. Only a handful of 8% people said that they use a password manager, which is a single sign-on service very much like Facebook or Google (4%). Only 1% stored them on a cloud account.
45% of the participants revealed that they include special characters in their passwords such as $, %, or @, whereas about 32% told that they have passwords containing fewer than eight letters. Almost 35% of passwords comprise of up to ten characters while 16% of the most security concerned people have passwords of over 12 characters.
The experts at GMX have provided the following set of guidelines to follow while setting up passwords:
Set up passwords that are not easy to guess by others, that is they should not be chosen based on the information available to friends, colleagues or is over the internet.
Every account should be assigned with a separate password.
Passwords should consist of at least eight characters with special characters, along with upper case and lower case characters, as well as numbers and symbols if allowed.
The most secure passwords are the ones that are randomly generated and are not available in the dictionary.